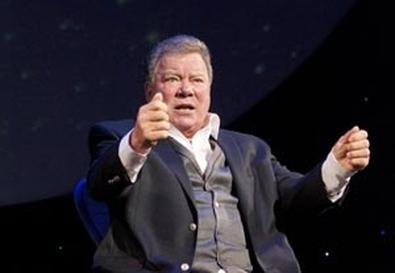 Shat happens—or so shouts one of the souvenir T-shirts at the Music Box Theatre's merchandise kiosk. As you enter the theater, a sign reads in theme-park fashion, "Welcome to Shatner's World. He's been expecting you." What you should be expecting is, well, the shat, because for Shatner, or Bill, the career mishaps are what build this mildly entertaining, entirely self-indulgent voyage through his life history.
"Star Trek" fans will be disappointed to learn that he doesn't beam in but instead makes his entrance as an ordinary actor. ("Everybody beams in," he jokes.) Starting with his origins in Montreal, Shatner charts his career chronologically, from understudying Christopher Plummer in "Henry V" at the Stratford Shakespeare Festival all the way to announcing the final wake-up call for the space shuttle Discovery. His famous gigs—the Priceline Negotiator, "Boston Legal," "Rescue 911," "The Practice," and of course "Star Trek"—make modest appearances, but the insider jokes are rare and fairly obvious, even to the Shatner neophyte. Whether they're funny is another question. But I won't play into the man's anxiety. He admits to it, alongside many other fears, and the overly self-conscious nature of the piece makes this critic feel guilty about throwing bombs. The show is about William Shatner playing William Shatner, and let's be honest, he plays himself well.
From embarrassing himself in front of George Lucas to battling a rat in an RV on a ski trip with his kids, Shatner has been in some interesting personal and professional situations. The mortifying moments don't stop with the stories. If you're lucky, you'll experience some candid Shatner moments, as only live theater can produce. At the performance I attended, the star lost his microphone, almost fell off his chair while mounting it like a horse, and missed a few laughs. "I won't use that line again," he said, when a joke fell flat for the second time. (It's a testament to Scott Faris' loose direction that Shatner's co-star for the evening, a deluxe rolling office chair, doesn't plummet from the stage.) Edward Pierce's globe backdrop acts as a projection screen for video clips of the actor's career highlights, and the galactic background is a nice touch. However, two antique-looking desks appear extraneous.
Despite his larger-than-life persona, Shatner wants you to know that he's human, just like you. "Sorry to disappoint you, but I'm real," Shatner sings in "Real," a song country artist Brad Paisley wrote for him for his album "Has Been." And real he is. In a program note to the audience titled "About Tonight," Shatner writes, "The actor going solo has a little more apprehension than is customary." But he isn't just afraid of failing onstage. His admitted dread of death and embarrassment propel this retelling of his life, and the piece comes across as almost a self-written eulogy, complete with a photo slideshow at the finale. At 80, Shatner has obviously come to a crisis point. "Death is the final frontier," he says.
Shatner doesn't exactly go boldly where no man has gone before, and he's wisely protected himself from the critics, as the show only plays for three weeks, so praise or pan, he will be fine. Trekkies will no doubt bring him standing ovations nightly for his entertaining narcissism.
Presented by Innovation Arts & Entertainment, Larry A. Thompson Organization, Adam Troy Epstein, Seth Keyes, Josh Sherman, and Larry A. Thompson at the Music Box Theatre, 239 W. 45th St., NYC. Feb. 16–March 4. Mon., Thu.–Sat., 8 p.m.; Sun., 3 p.m. (Additional performances Tue., Feb. 21, 7 p.m.; Sat., Feb. 25, 2 p.m.) (212) 239-6200, (800) 432-7250, or www.telecharge.com.