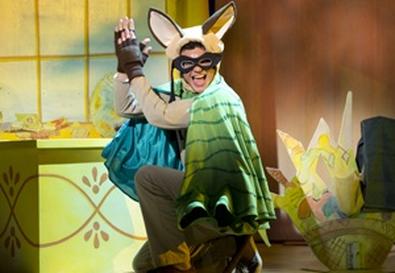 Once upon a time there was a beautiful Kevin Del Aguila–Eli Bolin score that lived with some embarrassing direction and a horde of delighted under-10s in a Theatreworks USA production called "Skippyjon Jones." There are kids' musicals and there are kids' musicals, and "Skippyjon Jones" is one of the latter. It's not as much fun for parents as, say, "Click, Clack, Moo," which set a high watermark for tuners about socialist farm animals, but it's everything a discerning 5-year-old is looking for in the theater.
Skippyjon himself is a Siamese kitten whose ears are too big for his body. Because of this he decides it's unlikely that he's a cat at all, so he looks around for an animal that more closely resembles him than the rest of his family. Is he a bird? A bat? A Chihuahua? He settles on the last option, and after being sent to his room he imagines an adventure with made-up Chihuahua friends in a little Mexican village.
Director Peter Flynn doesn't have much use for the nonimaginary parts of the show, and it shows. The scenes in the "real" world have that painful cuteness that lards kids' TV, but they give way to the confused Siamese mindscape quickly enough. Generally speaking, the actors fare better as dogs than as cats. The same four folks play Skippyjon's acquaintances on both sides of the imaginary divide, and the dogs have much clearer personalities and tics than the cats (which is a shame, because I know some cats with truly terrible temperaments who would be well-suited to the stage).
Everyone except lead Austen Nash Boone gets a moment to shine, some more often than others. Graham Stevens is very, very funny as the ringleader of Skippyjon's imaginary Chihuahuas. Veronica Reyes does a great job conveying both "small dog" and "friendly teenage Mexican guy who calls everyone 'dude'." Gabrielle Ruiz practically steals the show as the only girl Chihuahua in a group of boys who won't let her play "fetch" with them.
The problems with the lead role have less to do with any inadequacy on Boone's part—he's got a beautiful voice—and are more about a part that really doesn't have much room in it to screw around. That's the stuff of which good children's-theater performances are made. The money parts are the bit roles, which is probably why Jose Restrepo is the one actor who finds compelling things to do as both a dog and a cat. His Mama Junebug is just as funny as his faux-Mexican counterparts.
Something kept nagging at me throughout this production: Mexican-Americans are a huge and growing segment of the population, suggesting that plenty of Hispanic kids are going to see this show. I have nothing against the old Warner Bros. Speedy Gonzales cartoons, but they approximate the level of cultural sensitivity shown here, despite the efforts of a majority Hispanic cast. I realize that this is a very simple musical for kids, not a treatise on race relations, but it would have been nice to get a little more nuance out of the pretend-Mexican setting. "Skippyjon Jones" goes a bean joke too far on more than one occasion. The kids will have a ball anyway, but it's worth considering how better to entertain a generation that's going to look a lot different than any previous one.
Presented by Theatreworks USA at the Lucille Lortel Theater, 121 Christopher St., NYC. July 25–Aug. 17. Mon–Fri., 10:30 a.m. and 1 p.m.; Sun., 2 and 4:30 p.m. (Additional performances Thu., Aug. 2 and 16, 6 p.m.; no performance Sun., Aug. 5, 4:30 p.m.) (212) 627-7373 or www.theatreworksusa.org. Casting by Molly K. Meador.