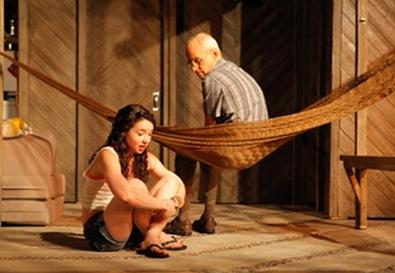 Greg Pierce's two-hander "Slowgirl" is a fitting inauguration for Lincoln Center Theater's new Claire Tow Theater. Plunked atop LCT's Vivian Beaumont Theater, the invitingly intimate, determinedly self-effacing space is intended to showcase writers who are just starting out, offering them a safe place to experiment and find themselves. Though Pierce's play falls short of success, it's obvious that his is a voice worth cultivating.

Pierce's problems begin with his premise. After 17-year-old Becky, a sheltered suburban middle-class kid, was involved with others in a potential bullying situation that seriously injured a mentally challenged classmate, her mother abruptly sent her to stay with her uncle Sterling, Mom's once-close but now-distant brother. The nervous, repressed, generally uptight Sterling lives like a hermit in an overgrown open-air hut in the jungles of Costa Rica, having fled from his own problems. Extrovert Becky only met him once, when she was 8 years old. It doesn't seem a likely choice for a worried parent, and Pierce never manages to make it one, despite the use of extensive backstory.

He does, however, create two plausible characters and chart their sudden, forced relationship interestingly. "Slowgirl" is at its best in its interstices, those moments in which Becky and Sterling process some unexpected reaction, digest a piece of surprising information, or break out with a startling thought. It's less successful structurally. The play is too neat in its exposition—carefully dropping hints along the way of small things that are going to return importantly at the climax—and its symbolism (the walking labyrinth of stones built by Sterling to help him achieve serenity of mind). And, of course, there is the inevitable climax in which Becky at last tells what really happened, though not before she has made her uncle face some uncomfortable truths of his own.

Director Anne Kauffman and her two fine actors, Željko Ivanek and Sarah Steele, navigate this delicate dance with grace and intelligence. Kauffman's staging is ever sensitive to the script's rhythms. In Steele's hands, Becky is a mixture of bravado, curiosity, narcissism, and fear, a potent adolescent brew. When the truth finally outs and Becky crumbles, Steele effectively reveals the vulnerable little girl hiding within. Ivanek, an actor for whom falseness seems to be impossible, burrows deep into Sterling's insecurities, so deep that it's sometimes difficult to watch (his panic attack in the labyrinth). He is especially good at keeping us wondering what this uncommunicative, rather cold man is really thinking (when Becky snaps at him, "Would it kill you to finish a sentence?," we feel her frustration) and convincing in the love Sterling comes to feel for this girl he barely knows.

When set designer Rachel Hauck's understated hut of wood and corrugated tin rises to hover over Sterling and Becky when they are at the labyrinth, the resultant stage picture is resonant with the story's looming uncertainty. Hauck has also had the inspired choice of ringing the domicile with upright wooden planks painted various shades of green. Combined with Japhy Weideman's atmospheric lighting—especially in a lovely moment when only the "jungle" is lit as night melds into day—and Leah Gelpe's thicket of sounds, the result is a palpable sense of place. Emily Rebholz's deceptively ordinary contemporary costumes are attuned to character.

A warm welcome to the Claire Tow (get there early and enjoy the view from the outdoor deck overlooking Lincoln Center Plaza) and to Pierce. I'm sure theatergoers will be spending happy evenings with both in the years to come.

Presented by Lincoln Center Theater/LCT3 as part of the Steinberg New Works Program at the Claire Tow Theater, 150 W. 65th St., NYC. June 18–Aug. 5. Mon., Wed.–Sat., 7 p.m.; Sat. and Sun., 2 p.m.; Sun., 7 p.m. (212) 239-6200, (800) 432-7250, or www.telecharge.com. Casting by Daniel Swee.