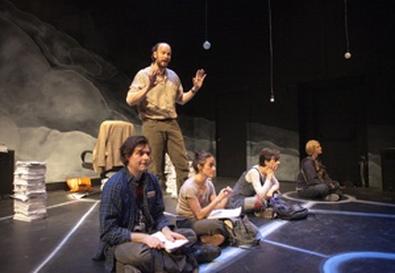 "I shouldn't believe in what I believe in?" the titular character of Adriano Shaplin's supple memory play "Sophie Gets the Horns" asks at one point, fully willing to be convinced. And as she hangs on her chill ethnography professor's every word and follows her turbulent roommate's every whim, Sophie navigates a familiar tale of identity, discovery, and sexuality during her first year of college. Yet the genuineness of the Riot Group's refreshingly simple production, directed by Rebecca Wright, adds the whiff of authenticity (or was that pot smoke?) to what might have otherwise been a drearily academic exercise.
Sophie meets potential spiritual guides all over campus in 1996. There's her pothead friend Sam (played with spot-on hip-hop affect by Stephanie Viola), who has apparently had no trouble creating a subversive identity for herself. An emo keyboardist named Bernardo, played by Shaplin with true heart beneath a lot of stringy black hair, makes a handy sexual partner for Sophie -- until she meets her Sylvia Plath-obsessed roommate Alice.
Kristen Bailey plays both an adult version of Sophie, now a novelist relating this tale as part of an interview, and her younger self, a freshman in college in the mid 1990s. Appropriate to youth of the era, there is a graceful lethargy to director Wright's staging. Even in conversation, characters always face forward as opposed to facing each other, a neat and alienating trick that asks much from the nimble performers, who must still react as though they are making eye contact.
Bailey renders the inner clash between Sophie's innocence and her attempts to exorcise it with a churning accuracy. Nowhere is this more apparent than her introduction to Mary Tuomanen's alluring and intense Alice, which occurs during an open-mic night performance in which Alice slams a searing poem about life and death with severe, whispery cool. The play culminates with the presentation of Alice's ethnography final to Professor Shallembarger (a balanced Drew Friedman): an absurdly superb play within a play about Sylvia Plath and a Minotaur, the title of which is too profane to include here.
Presented by the Riot Group at Incubator Arts Project, 131 E. 10th St., NYC. May 4-20, Thu.-Sun., 8 p.m. (866) 811-4111 or www.incubatorarts.com.