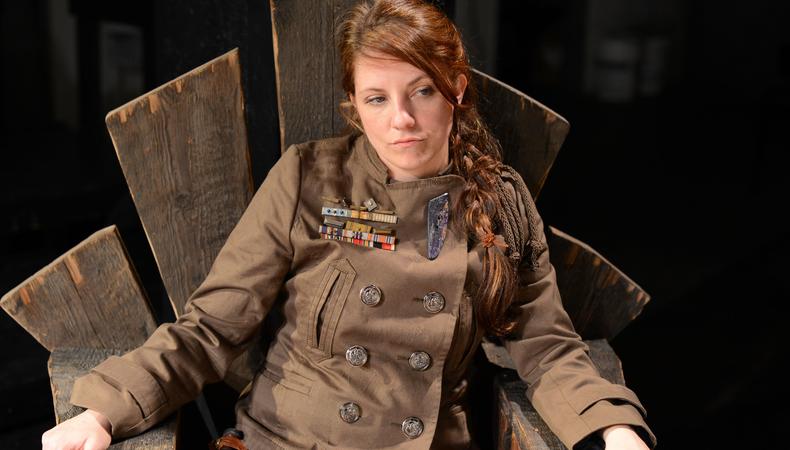 According to the late Sir Arthur C. Clarke, science fiction is by definition a "concerned fiction." When done well, it can take a small human conflict, like the fraught relationship between a brother and sister, and amplify it to extraordinary, even intergalactic levels.
In the first part of playwright Mac Rogers' truly spectacular "Honeycomb Trilogy," siblings Abbie and Ronnie Cooke were just normal arguing teenagers. As we reach "Sovereign," a play every bit as rich and daring as the previous two, the Cooke children have survived human civilization's collapse under a brutal extraterrestrial occupation brought about by their astronaut father. Ronnie, who led a resistance movement that eventually overthrew the aliens, must render final judgment upon her brother, an alien collaborator considered to be Earth's most infamous war criminal.
This contentious sibling bond, wrought so genuinely by Becky Byers and David Rosenblatt in even the most mind-boggling portions of the first two plays, "Advance Man" and "Blast Radius," remains Rogers' chief concern in part three. But here the roles of Ronnie and Abbie have been recast with Hanna Cheek and Stephen Heskett, respectively. Though initially a jarring change, Cheek's gravelly turn as the tyrannical Ronnie, now governor of a kind of feudal state called Coral Settlement in what used to be Florida, feels like a natural continuation of Byers' performance, while Heskett brings an invigorated gravitas to Abbie's plight.
Before the insectoid Honeycomb was defeated, Abbie conspired to telepathically overwrite all human consciousness with the minds of the giant alien bugs. Now he stands accused of attempted genocide. There are two passionate lawyers on hand for his "trial": Settlement Manager Zander Smith, played sharply by Matt Golden, and defender Tanya Miller, portrayed by a vigilant Medina Senghore. The dilapidated remains of the Cooke family home provide an appropriate locale for this hearing, which culminates the affecting divide between Ronnie and Abbie.
Set designer Sandy Yalkin ingeniously reinvents the space from parts one and two yet again, this time into Governor Cook's office, where Ronnie's teenage aversion to rules has extended as her reign became more absolute. She writes, ratifies, and revises settlement law ad hoc to serve her purposes. Abbie, sensitive and bullied in youth, in adulthood uses this last audience with his sister to seek justice for the aliens killed in Ronnie's violent rebellion.
Director Jordana Williams returns with a third tactful staging, ably completing the long and stirring transmutation through which Rogers has taken these characters-from small domestic anxieties to far-reaching debates about mankind's survival in the face of oppression and moral decay. Sir Arthur would be proud.
Presented by Gideon Productions as Part of the BFG Collective Residency at The Secret Theatre, 44-02 23rd Street, Long Island City, NY. June 14-July 1. Thurs.-Sat., 8 p.m.; Sun., 3 p.m. (Additional performance Mon., June 27, 8 p.m.) (866) 811-4111 or www.gideonth.com.