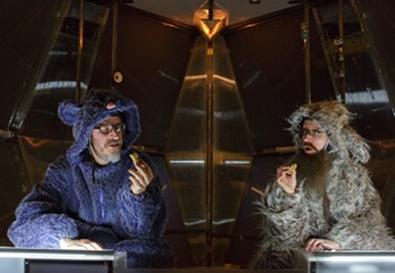 News flash: Being trapped in a bubble-shaped spaceship with your brother for the rest of eternity is as maddening as it sounds. If your brother turns into a girl and then you impregnate her, things get a bit more interesting, but only a bit. The ensemble company Banana Bag & Bodice ("Beowulf," "Sandwich") has turned this conceit into mind-bending sci-fi absurdism. "Space//Space," its newest work, is "Waiting for Godot" meets "2001" meets "Split Britches," at times quirky, at times quite serious, always intelligent, and refreshingly contemporary.
Jason Craig and Jessica Jelliffe, dressed in plush costumes like hamsters in a plastic bowl, play the unnamed brothers, who have been sent into the cosmos in the hope that they will bump into some extraterrestrial life. Their job—the two were hired as part of a "work placement" program "like the WPA"—is to wait until found, whenever and wherever that may be. Meanwhile, everything they say is being recorded, presumably for the aliens to learn what humans do when they've been bored for decades. The point, though, is that those decades have changed what it means for the brothers to be human. Jelliffe's character's gender alteration is the most visible symbol of the radical reopening of truth and meaning that takes place so far from civilization. The test the two must undergo measures their ability to cope with transformation.
The experience of watching "Space//Space" is admittedly a bit tedious, but its sophistication makes up for its stasis. The piece successfully packs utopian longings, the unpredictability of cultural change, and the anxieties of living in a surveillance society into one neat allegory. Craig, tough and tragic, and Jelliffe, soft and emotionally nimble, represent the yin and yang of political affects, fear and poise in the face of the future. Their set, a giant ball built by the ensemble with metallic surfaces and flashing lights, is intriguing without being distracting. Trapped with the actors in the hot space of the Collapsable Hole, it's easy to feel sympathy for the brothers' plight. But as their paths diverge, it becomes far more interesting to ask which brother you would resemble if you too were trapped in space.
Presented by Banana Bag & Bodice at the Collapsable Hole 146 Metropolitan Ave., Brooklyn, N.Y. June 8–July 1. Thu.–Sat., 8 p.m.; Sun., 7 p.m. (212) 352-3101, (866) 811-4111, www.theatermania.com, or www.bananabagandbodice.org.