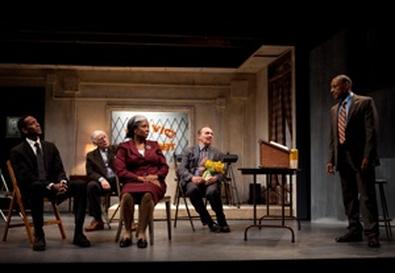 With "Storefront Church," now playing in an Atlantic Theatre Company production at the newly refurbished Linda Gross Theater, John Patrick Shanley completes his "Church and State" trilogy, which also includes "Defiance" and the Pulitzer Prize–winning "Doubt." Each work examines the relationship between the individual and an institution. "Doubt" focuses on the monolithic Catholic Church, while "Defiance" centers on the U.S. Marine Corps. This new play takes American financial giants and their effect on struggling communities as its theme.
Whereas "Doubt" is laserlike in its concentration on an authoritarian nun suspecting a popular priest of pedophilia, "Defiance" is all over the map in the number of issues and stories it raises. "Storefront" suffers from the same scattershot approach, and Shanley lays on the symbolism a bit too thickly. When the CEO of a powerful bank is shown devouring a gingerbread house as greedily as his company gobbles up a Bronx neighborhood, and when painfully obvious parallels are drawn between a disfigured loan officer and the Hunchback of Notre Dame, Shanley is hitting us over the head with his points. But despite these excesses, the play, directed with a sure hand by the author, has much to recommend it.
The plot could be ripped from the headlines. A behemoth bank is foreclosing on the home of saintly Bronx resident Jessie Cortez. She has taken out a crippling second mortgage in order to convert her basement into the titular establishment for her tenant Chester Kimmich, an iterant preacher displaced after his New Orleans parish was destroyed by Hurricane Katrina. The trouble is that Kimmich, suffering from a crisis of faith, cannot bring himself to hold services and therefore hasn't paid the rent for several months. Jessie's husband, Ethan Goldklang, appeals to the loan officer, Reed Van Druyten, who is dealing with his own problems, including having been shot in the face by his wife and losing his fortune in the crash of 2008.
Jessie applies pressure to Bronx borough president Donaldo Calderon, whose mother is a friend of Jessie's and whose father was a man of God. Surprise: Donaldo has daddy and faith issues too. In turn, he attempts to cut a deal with the bank's CEO, Tom Raidenberg—sounds like raider, get it?—the guy who likes to eat houses. These six characters come together in a climactic Sunday meeting at the basement house of worship where financial and spiritual matters are debated and too-tidily resolved.
Yes, the arguments are a bit pat, but they are put forth with energy and wit and are staged and played with pace and punch. In a solid ensemble of theater veterans, the standout is Zach Grenier, who creates a searing portrayal of the ravaged Reed Van Druyten. At first I thought the actor had suffered a stroke, so convincing was the physical life he created for this victim of a facial gunshot wound. Yet despite the frozen, twisted features he displays, Grenier blazingly conveys the inner torture that this shattered man is going through. His affecting breakdown in the final scene provides the emotional core of the production.
The conflicted Kimmich could have easily come across as a whiner, but Ron Cephas Jones endows him with moral strength. As the borough president, Giancarlo Esposito skillfully exposes the doubting heart beneath the glad-handing politician's smile. Bob Dishy is reliably caustic as the idealistic Goldklang, and Tonya Pinkins remembers that Jessie can be as manipulative as she is altruistic. Jordan Lage avoids the corporate clichés of Raidenberg for a shaded limning. Takeshi Kata created the suggestive, flexible set for this mixed blessing of a play.
Presented by and at Atlantic Theater Company, 336 W. 20th St., NYC. June 11–July 1. Tue.–Sat., 8 p.m.; Wed. and Sat., 2 p.m.; Sun., 3 p.m. (No performance Tue., June 12.) (212) 279-4200 or www.ticketcentral.com. Casting by Telsey + Company/Will Cantler.