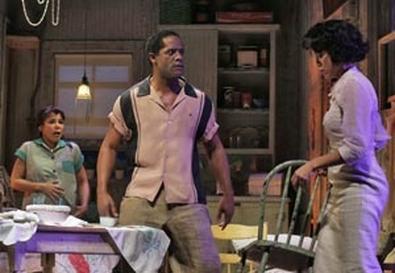 Sometimes there's yuks so quickly. The latest production of Tennessee Williams' masterwork "A Streetcar Named Desire" is an unfathomable misstep from the gifted Emily Mann, whose work as both director and playwright I have often admired. Helmer Mann and her starry cast treat the classic as if it were a combination soap opera and sitcom. The result is embarrassing and sad.
There are so many head-scratching miscalculations that it's hard to know where to begin. We are supposed to care about fraying Southern belle Blanche DuBois, ultimately driven to madness by her destruction at the hands of the brutish Stanley Kowalski. But with film and TV actor Nicole Ari Parker angling for her laughs (yes, there are plenty of laughs in "Streetcar," but Blanche shouldn't go charging after them) while looking like she just stepped off a modeling runway (this Blanche needn't be afraid of bright light), precious little empathy is generated. Parker is far too tough and together, which makes Blanche's airs and eccentricities seem annoying and phony. Worse, her apparent inability to play difficult emotional moments leads Mann to take a page from Kenny Leon's staging of Sean Combs in "A Raisin in the Sun" and repeatedly block Parker facing away from the audience during them.
Add to that Blair Underwood's matinee-idol Stanley (the Kowalski has been dropped), and you get a show in which the audience roots for him to give that high and mighty slut her well-deserved comeuppance. Underwood gets Stanley's macho swaggering and simmering violence, but that's all he gets, unable to suggest the childish insecurities and sense of otherness that fuel much of Stanley's behavior and Stella's love for him. The audience's sympathies were on excruciating display during Blanche and Stanley's final confrontation in inappropriate laughter generated by a hunger to see Blanche taken down a few pegs. To be fair, the sudden and queasy silence that greeted the concluding rape suggested that it was at least one peg too far.
As Stella, Daphne Rubin-Vega is supposed to be playing a younger sister but comes across as older. Rubin-Vega's thin, scratchy speaking voice reinforces that perception, especially when she employs it in one-note screeching when Stella is exercised. There's nary a hint of Stella's privileged Belle Reve upbringing in the actor's work, even if only as something that Stella is rebelling against. Wood Harris makes Mitch, Blanche's last-chance suitor, a younger and worshipful Stanley acolyte rather than an older guy set apart from Stanley's poker-playing friends by his intelligence, good manners, and devotion to his ailing mother. Wood is the only one of the four principals to find a successful through line for his character, but the re-conception is also a reduction. When Mitch cruelly humiliates Blanche after discovering the truth about her past, the behavior is unsurprising, rather than the self-debasement of a good and decent man.
Among the supporting cast, only Amelia Campbell, as feisty upstairs landlord Eunice, and Carmen de Lavallade, doubling as an older neighbor and a Mexican flower seller, stand out. Both women succeed through simplicity, directness, and understatement, and it's a delight to see famed dancer de Lavallade cut a few steps in a funeral parade at the top of Act 2, even though the sequence feels added just for her and doesn't do much of anything for the play.
Providing the music for that sequence and throughout is Terence Blanchard, whose smoky, jazzy sounds confidently conjure mid-20th-century New Orleans but stop there, uninterested in character and dramatic action. A similar mistake is made by set designer Eugene Lee, whose highly detailed realistic set forces some clumsy staging and is heavy on the squalor but light on any sense of poetry.
Indeed, it seems as if Mann and company have deliberately set out to strip the poetry from Williams' themes, characters, and especially his dialogue. The great playwright is shown no kindness here.
Presented by Stephen C. Byrd, Alia M. Jones, Anthony Lacavera, BET Networks, Henry G. Jarecki, Simon Says Entertainment, and Dancap Productions, in association with Linda Davila, Patricia and Thomas Bransford, and Theatre Venture, at the Broadhurst Theatre, 235 W. 44th St., NYC. Opened April 22 for an open run. Tue. and Thu., 7 p.m.; Wed., Fri., and Sat., 8 p.m.; Wed. and Sat., 2 p.m.; Sun., 3 p.m. (212) 239-6200, (800) 432-7250, or www.telecharge.com. Casting by Telsey + Company/Will Cantler