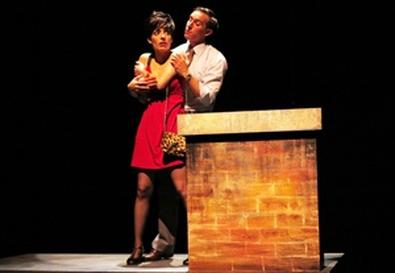 With a zippy book by Neil Simon and some equally zingy songs by composer Cy Coleman and lyricist Dorothy Fields, "Sweet Charity" has been an enduring favorite since its debut in 1966. Thus, audiences may find themselves thinking about taking in director Julio Agustin's new staging for New Haarlem Arts Theatre. But while this production allows theatergoers to savor the work's craftsmanship, aside from a few game performances and a trio of terrific dances from choreographer Lainie Munro, it proves to be a sadly uneven affair.
The production's shortcomings are evident from the moment the five-piece band (musical direction by Brett Pontecorvo) strikes a few wan notes to set the tone for the show in lieu of Coleman's signature overture. Things get worse once the rubber-faced Edlyn Gonzalez, as Charity—or rather Caridad Esperanza Valentín, as this dance-hall hostess has been re-imagined—utters her first words. Gonzalez's vocals sound as if they are coming from somewhere just offstage (Aman-Re Jack's sound design never rights itself). At this point we know we are in for a bumpy ride.
Ultimately, the problems are as myriad as those that Charity/Caridad faces as she seeks love and a way out of the tacky Fandango ballroom in mid-1960s New York. The acting can be hopelessly hammy, particularly Cedric Leiba Jr.'s annoyingly caricatured turn as Vittorio Vidal, originally written as a big-screen icon but here reconceived as a grossly passionate telenovela star. Worse still is Leiba's interpretation of the sumptuous ballad "Too Many Tomorrows," in which he makes the original melody almost unintelligible.
Somewhat better is Jeff Wojcicki's turn as Oscar, a guy whom Caridad meets on a trip to the 92nd Street Y, where she's gone in an effort to better herself. Wojcicki overplays Oscar's panic attack while he's stuck in an elevator with Caridad, but when it comes time for him to deliver Oscar's tribute to the young woman with whom he's falling in love, the actor delivers with a gentle and remarkable ease.
Other company members who make a good impression are Aili Venho and Allicia Lawson, who show promise and dance up a storm as Caridad's best pals at the Fandango, and Dennis Wit, playing the place's crass manager and landing his jokes with decided flair. However, Tiffany Caserta—as the preacher at a religious service under the Manhattan Bridge that Oscar and Caridad visit—is completely inaudible in her big song, "Rhythm of Life."
Gonzalez's work is as spotty as the show that surrounds her. She moves like a dream in her numbers, and the goofy physicality she brings to the stage is more often than not winning. Unfortunately, her singing, even if it were not undermined by the sound design, is merely serviceable.
Presented by New Haarlem Arts Theatre at Aaron Davis Hall, 160 Convent Ave., NYC. July 28–Aug. 19. Thu.–Sat., 7 p.m.; Sat. and Sun., 2 p.m. (212) 868-4444 or www.smarttix.com.