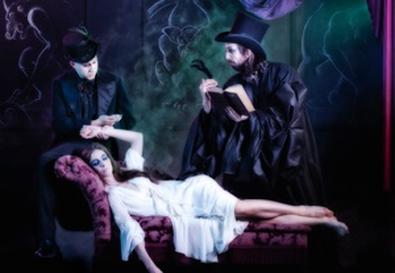 With election season upon us, and the summer heat beginning to rear its ugly head, it makes sense that Dixon Place should decide, with "Symphony of Shadows: A Tale From the Land Beyond the Veil," to get into the dream business. The dance piece, conceived, choreographed, and directed by Rachel Klein, explores the tension between our monotonous waking world and our most exciting and occasionally unsettling fantasies.
Klein's work ("The Tragedy of Maria Macabre", "Lizardman") often mixes playful escapism with the fancifully macabre. For "Symphony," she has assembled a small circus of dancers (22 total) to engage in various aerial, acrobatic, and balletic stunts. One of them, Elizabeth Stewart, plays a woman who, under the spell of a nefarious, black-clad, glitter-wielding genie, has her sleeping hours overtaken by dancing cats, bitchy angels, rope dancers, dizzying bats, and other characters from a gypsy fairy tale. Her drudging workdays, filled with abuse from her gray-suited bosses, become progressively more painful as her nighttime escapades grow more intense and scary until her final, triumphant resolution.
"Symphony of Shadows" is, in essence, a low-budget Cirque du Soleil extravaganza. The athletic feats of the dancers are less impressive than the fact that they're all squeezed into Dixon Place's tiny theater. Backed by a string trio and a pianist, who play Sean Hagerty's driving, Philip GlassÐesque music throughout, the world that the dancers craft is visually sumptuous. Klein's staging fills the theater from floor to ceiling, and each of the fantasy sequences allows a different dancer to perform a virtuosic set piece in one of many worlds sensuously imagined by Klein and her creative costume designer Kae Burke.
The story the ensemble tells, though, waxes repetitive and has little to reveal once its pattern emerges. The tall and spindly Stewart wrings much comic range from the chaotic choreography. As a whole, then, "Symphony" is as whimsical and frivolous as a passing daydream.
Presented by and at Dixon Place, 161A Chrystie St., NYC. June 7–23. Thu.–Sat. 7:30 p.m. (212) 352-3101, (866) 811-4111, (212) 219-0736, or www.dixonplace.org.