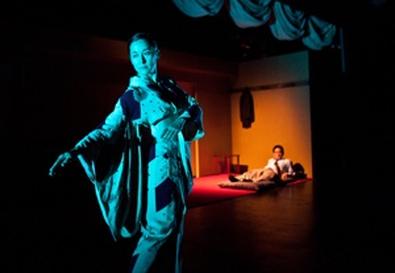 "Takarazuka!!!," the first play of three-play festival Clubbed Thumb Summerworks 2012, offers a fascinating glimpse into the unusual real-life theater and school founded by a railroad tycoon 99 years ago in the Japanese city of Takarazuka. The Takarazuka Revue offers lavish productions of Western-style musicals in which all the men's parts are played by women trained from a young age in the Takarazuka school. The aim of the training, as one character explains in Susan Soon He Stanton's new play, is to create "an army of perfect wives…. [T]he reasoning is that we understand how to be a man. We can give a man his freedom but also know how to tie a tie perfectly."
It is 1975, and Nigel, a half-Japanese filmmaker from the BBC, visits Takarazuka to make a documentary focusing on Yuko, the premier male impersonator. The setup allows us to learn the complex culture of the Takarazuka theater, where stars such as Yuko must retire after only a short while, and Nigel—who of course becomes smitten with Yuko—is there for her sayonara performance and its aftermath, which is both prosaic and otherworldly.
The fictional story that the playwright cooks up around the real if eerie world of Takarazuka theater is a relatively weak stew flavored with everything from "Victor/Victoria" to "M. Butterfly" to "Farewell My Concubine" to "The Red Shoes." But this hardly matters, given some riveting scenes and wonderful performances.
Jennifer Ikeda is ideal as the androgynous Yuko, a fisherman's daughter who studied the films of James Dean and Montgomery Clift "until I could walk across the room as only a man can." We first see her in a convincing Fred Astaire–Ginger Rogers duet with Brooke Ishibashi as Chifumi, Yuko's insecure acting and dancing partner. Ishibashi is first-rate in the role of Chifumi, who has a crush on the star but also envies and resents her. She has a second role as a gushing young fan, one of the screaming throng drawn to the Takarazuka theater since Justin Bieber's grandfather was a young man.
Presented by Clubbed Thumb Summerworks 2012 at HERE, 145 Sixth Ave., NYC. May 29–June 4, 8:30 p.m. (212) 352-3101 or
www.here.org
.