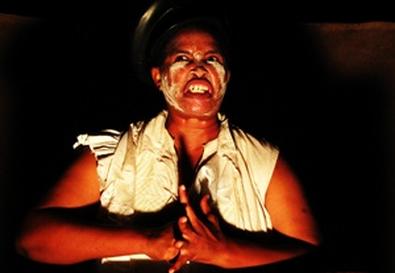 In "Tin Bucket Drum," a dictator has imposed his "silent sir" government on a town called Tin Town, outlawing music and rhythm and just about any sound: "Silence is the way to your salvation," the inhabitants are told. Both silence and a drought of many years have made the town "a paradise ruined with rust," when suddenly a child is born with such a strong heartbeat that her sense of rhythm threatens the police state. New York theatergoers will be forgiven for hearing of the tale told in Neil Coppen's play and thinking it sounds an awful lot like "Urinetown," the cheeky and subversive musical that somehow became a hit on Broadway. But "Tin Bucket Drum" is an import from South Africa, and its rhythms are not those of American musical theater but of African fable and dance, shadow puppetry, and, above all, percussion. Modest and experimental, this 70-minute theater piece is not aiming for the Great White Way. It is sad, harsh, simple, sometimes lovely, sometimes slow or confusing, and at all times a showcase for the talents of its two performers.
Using a startlingly expressive face, Mpume Mthombeni portrays a town full of characters, helped along with the donning or discarding of a scarf or a hat and director Karen Logan's savvy use of lighting and props. Mthombeni is the narrator; the defiant "little drummer girl," whose name is Nomvula; Nomvula's helpless mother, Nandi; a sympathetic old man whose drumming hands were broken by the police years ago; a doctor who tries to "cure" Nomvula; an unsympathetic headmistress; envious classmates; disapproving townspeople; and the dictator himself, known as the Censor, who can be as smooth as he is vicious. But her characters are not delivering monologues. What distinguishes "Tin Bucket Drum" is the dialogue that Mthombeni has with percussionist Wake Mahlobo, whose varied drum playing off to the side of the small stage is a crucial element. It is as if it's all the same story: The beat of Mahlobo's drums, like the beat of Nomvula's heart, cannot be dismissed.
Presented by Horse Trade Theater Group at the Kraine Theater, 85 E. Fourth St., NYC. July 27–Aug. 4. Mon.–Sun., 7:30 p.m. (212) 868-4444 or www.smarttix.com.