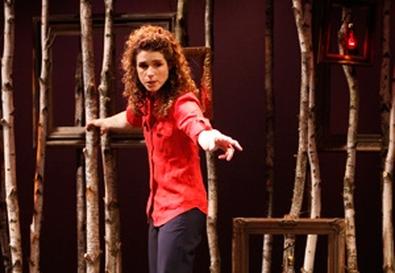 Dulcy Rogers is a skillful actor and a graceful wordsmith, and both qualities are nicely on display in "I Am a Tree," the solo show that she has written and enacts in a highly appealing performance. The story she spins in her play, however, is never fully satisfying. It's subtitled "an unstable new comedy," and while never tedious, it has the cobbled-together tone of short fiction in an old-time women's magazine.

The central character, Claire, narrates the story directly to the audience, intermingling descriptions of characters and locales with long exchanges of dialogue. Claire is the 35-year-old daughter of a cold and distant scientist and a mother who was committed to an insane asylum when Claire was only six years old. Claire, who we eventually learn is pregnant, is consumed with fear that her mother's illness may be genetic. In addition to being afflicted with it herself, she could possibly pass it on to her child. To determine the specifics of her mother's clouded history, Claire tracks down and visits three aunts, her mother's sisters, women that Claire did not know existed until she discovered an old letter from her mother. From her aunts she receives three different versions of her mother's persona and the possible reasons behind the madness. But it finally takes a none-too-convincing meeting with her silent mother and a pivotal recollection from the past for Claire to put aside her fears and decide to go on with her life and pregnancy, finding a tree-like peace with her world.

Under Allan Miller's deft direction, Rogers brings Claire and her extremely individualistic aunts to life with subtle definition. A lithe figure garbed in shirt and pants, she creates these women with only shifts in stance and vocal inflection. Even as they move through adroitly written and swiftly paced dialogue, you rarely have any doubt as to who is speaking. In the same vein, Rogers mimes various props with admirable clarity, helped by Jason Crystal's crisp sound design. The metaphor of the title as well as the gist of the plot are poetically underscored by Neil Patel's set, an almost bare stage except for a forest of slender birch trees at the rear, gorgeously lit by Yael Lubetzky. Among the trees hang empty picture frames, perhaps meant to hold the missing portraits of Claire's mother?

On balance, "I Am a Tree" is a near tour de force, more forceful in its acting than in the unwinding of its story.

Presented by United Pies at the Theatre at St. Clements, 423 W. 46th St., NYC. May 31–June 30. Thu.–Sat., 8 p.m., Sun., 3 p.m. (212) 352-3101, (866) 811-4111, or www.theatermania.com.