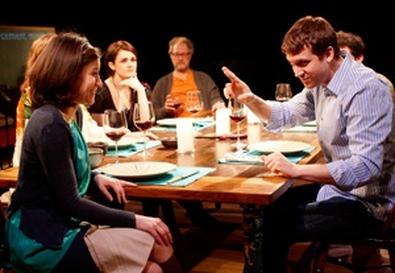 What a pleasure it is to encounter Nina Raine's distinctive comedy-drama "Tribes." This story of what happens to a fiercely intellectual, relentlessly competitive, "conventionally unconventional" (as one character puts it) English family when its youngest member, the sweet-natured Billy, who is deaf, steps into his maturity is ruthlessly unsentimental and well-observed. Under the doesn't-miss-a-trick direction of the excellent David Cromer, a superb six-person cast mines every ounce of humor and feeling in this enthralling new work.
Two of the three adult children of brutally blunt academic Christopher and his warily maternal would-be-novelist wife, Beth, have returned home to live. Sensitive and randy Daniel is competing with Christopher by writing a thesis about language and nursing a romantic breakup from Hayley, a Northern girl his perfectionist father deemed common. Middle child Ruth is pursuing her latest choice of career, singing opera, while lamenting her lack of a love life. Billy, the youngest, who has never left the nest, isn't doing much of anything. Then he meets Sylvia, a young woman of deaf parents who is going deaf herself due to a congenital defect. Billy lip-reads and speaks, his parents having decreed that he should be able to function in the world at large. Sylvia, however, is a poor lip-reader but an excellent signer. To be able to better communicate, Billy asks her to teach him sign language. It opens up a new world for him but also leads to a family cataclysm.
The title refers to the insular nature not only of Billy's family but of the deaf community as well, and the more Billy embraces the latter the more he questions the former. Russell Harvard, himself deaf, turns in a powerful performance that ranges from adept romantic comedy to quiet sadness and heartbreaking anger. His subtle playing at the end of Act 1 as Sylvia demonstrates her pianistic talents to the family is particularly affecting. Susan Pourfar is a fetching and feisty Sylvia, self-possessed yet vulnerable. She signs with a vivid facility and is notably good at modulating Sylvia's speaking skills as her ability to hear herself slips away. Billy and Sylvia are the heart of "Tribes," and Pourfar and Harvard's palpable chemistry sets it beating.
Jeff Perry and Mare Winningham are a thoroughly persuasive opposites-attract couple as Christopher and Beth, with Perry's restless energy and bombastic iconoclasm softened by Winningham's piercing gaze and loving empathy. Gayle Rankin's funny, foulmouthed Ruth is all elbows as she battles to stay at the center of things and touching when she insists that there must be something wrong with her. As Daniel, the electric Will Brill refuses to shy from the character's annoyingly juvenile attitudes and self-centered needs while locating an inner vulnerability that explains them.
Cromer's enveloping in-the-round staging puts us smack in the family home, dodging to get out of the line of fire. Scott Pasks' furniture-heavy set, Tristan Raines' spot-on contemporary costumes, and Keith Parham's quiet lighting aid the illusion mightily. Jeff Sugg's projections inventively achieve Raine's use of subtitles for sign language, unclear speech, and even in one inspired scene subtext, and Daniel Kluger's sound design does the same for Raine's character-enhancing use of music and noise.
It's heartening to see commercial producers (though it sadly requires 10 of them) taking a chance on this kind of tough, smart writing Off-Broadway, where serious plays are now almost entirely relegated to nonprofit theaters. Cromer had a long-running hit at the cozy Barrow Street Theatre, one of my favorite Off-Broadway spaces, with his terrific revival of "Our Town." I think it very likely that with "Tribes" Cromer has once again tied up the Barrow Street for some time to come.
Presented by Scott Morfee, Jean Doumanian, Tom Wirtshafter, Patrick Daly, 2Manocherians, Christian Chadd Taylor, Burnt Umber Productions, Marc and Lisa Biales, and Roger E. Kass at Barrow Street Theatre, 27 Barrow St., NYC. Opened March 4 for an open run. Tue.–Sun., 7:30 p.m.; Sat. and Sun., 2:30 p.m. (212) 868-4444 or www.smarttix.com. Casting by Pat McCorkle Casting.