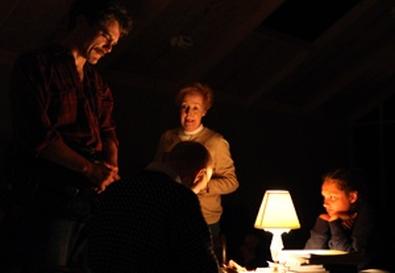 Hard on the heels of Target Margin Theater's modernist interpretation of "Uncle Vanya"—and opening just a month before the Sydney Theatre Company brings its award-winning account of Anton Chekhov's play to New York—comes Annie Baker's "new version" of the 1898 Russian masterwork. Baker has crafted a sharp, modern-sounding text that's matched by the decidedly contemporary look of Soho Rep's production. Directed with leisurely care, albeit to sometimes-languorous extent, by Baker's frequent artistic partner Sam Gold, this "Uncle Vanya" gives audiences the chance to savor the work of a top-notch cast gloriously inhabiting Chekhov's ennui-filled characters.
There's a certain thrill to encountering Michael Shannon's almost effortless turn as Dr. Astrov, a physician who plies his trade in rural Russia, who is worn down not only by the tribulations of his profession but also by the shortsightedness of those around him. Sporting jeans topped with a rumpled shirt (costumes are by Baker), Shannon's Astrov is a man who is experiencing life through an invisible sheet of glass, unaffected by the people surrounding him while keenly disturbed by what he sees taking place in the physical world. For instance, he fails to notice the aching longing in the eyes of Sonya, the daughter of the ailing professor whom he's treating, when she stares at him, but he cannot help but raise his voice, albeit gently, to express his disgust with the decimation of the forests in the area where he works and lives.
Astrov's antithesis is Chekhov's title character, a 47-year-old man who's begun to question the choices he's made in life, which are fueled in part by the passion he's developed for Yelena, the professor's much younger wife. In a marvelously pitched performance by Reed Birney, Vanya is something of an open nerve, vacillating between being quietly unassuming yet terrifically aware of everything around him and volcanic rage, particularly when the professor announces his intention to sell the estate.
The chance to watch these two performances within the close confines of Soho Rep's intimate theater—reimagined by set designer Andrew Lieberman as a generically carpeted room filled with generations worth of mismatched furniture underneath a vaulted plywood ceiling of what resembles a modern ranch house, in which audiences watch voyeuristically from all sides on carpeted risers—should alone be enough to recommend the production. But Birney and Shannon are complemented by equally commanding turns, from Merritt Wever, whose clear-eyed, matter-of-fact take on Sonya makes the young woman's rejection by Astrov all the more painful; Peter Friedman, offering a cuttingly bitter and angry performance as the frustrated professor; and Maria Dizzia, doing remarkably calibrated work as the glibly bored Yelena.
Also impressive is Georgia Engel, who brings a chipper though never Pollyanna-ish demeanor to her portrayal of Marina, the elderly nanny who cared for Sonya when she was a girl. Now Marina attends to all of the adults in their sometimes-childish exploits, which are so beautifully captured in this finely etched production.
Presented by Soho Rep, in association with John Adrian Selzer, at Soho Rep, 46 Walker St., NYC. June 17–Aug. 26. Tue.–Sun., 7:30 p.m.; Sat., 3 p.m. (Sat., July 21, matinee is 2 p.m. Additional performance Sun., July 22, 2 p.m.) (212) 352-3101, (866) 811-4111, www.theatermania.com, or www.sohorep.org. Casting by Jack Doulin.