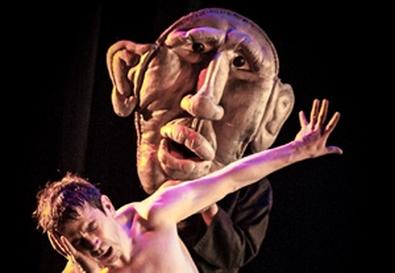 Director, designer, choreographer, dancer, and puppet-maker Federico Restrepo has spent a decade fashioning a nearly wordless stage art from his memories as a Colombian immigrating to the United States. Set to lovely original music by Elizabeth Swados and employing the talents of Loco7 Dance Puppet Theatre Company—the troupe of dancers and puppeteers that Restrepo founded more than a quarter of a century ago—"Urban Odyssey" is an often visually striking piece that is a culmination and merging of three previous works: "9 Windows," "Open Door," and "Room to Panic."
"Urban Odyssey" is best appreciated for its sensory experience: the inventive puppetry, graceful dance, and a score performed by a live band that alternately emphasizes the sweet flute, haunting strings, and vigorous percussion. The show seems at times to re-create unintentionally the sensory perception of a newly arrived immigrant: the awe but also the disorientation. The audience enters Restrepo's mostly abstract and nonlinear world as foreigners in the land of his imagination, not always sure what's going on but wide-eyed at the rush of new impressions.
Presented in 25 short scenes across 80 minutes, "Urban Odyssey" certainly has extended moments of clarity about the experience of immigrating to America. One of the most linear scenes occurs about halfway through, when a horse passes through customs after an official interrogates him to make sure he will not be working in this country, then travels to New York City, clip-clopping in front of Grand Central Terminal, which is presented as a video projection blurred and busy with activity. The horse (Restrepo, in one of many creative body puppets) meets up with a chef, a construction worker, and a farmer in a cowboy hat. He finds work with each in turn, chopping with the chef, working the drill with the construction worker, and planting seeds with the farmer.
None seem all that satisfying to the horse, and he takes the subway to Rockefeller Center, where he is drawn to the statue of Atlas. Suddenly, politicians and businessmen—marionettes with scary clay heads and bodies that are about double the size of the human beings manipulating them—confront him while the dancers and musicians say things like "Don't you know you have to live in fear and terror? It is a time to be scared, and only we can protect you." (Peter Schumann's Bread and Puppet Theater seems to have influenced Restrepo, both in his puppetry design and his view of American capitalism.)
In another scene, the performers each carry a door or a window, holding it in front like a prop or a puppet, before magically coming together to form a house. Shortly afterward, several emerge with tiny child marionettes, which they hug and play with until some of the giant evil puppets interrupt, carrying a sign reading "Foreclosure." Not all immigrant stories are steeped in nostalgia.
Presented by LaMaMa E.T.C., in association with Loco7 Dance Puppet Theatre Company, at La MaMa E.T.C., 66 E. Fourth St., NYC. March 24–April 8. Thu.–Sat., 7:30 p.m.; Sun., 2:30 p.m. (212) 475-7710 or www.lamama.org.