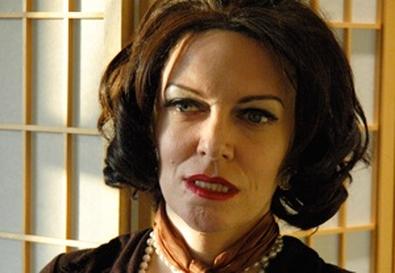 In Marcy Lafferty's "Vivien Leigh: The Last Press Conference," the gallant Jen Danby is giving a persuasive account of the titular English stage and film star against greater odds than a more generous universe would have allowed. In a small eighth-floor rehearsal studio, with her audience right on top of her seated on plastic folding chairs, under the unwavering glare of ceiling lights, competing with sirens and street noise coming through windows open to fight the heat, beginning 20 minutes late, and given no good reason by the playwright for why Leigh is sharing her life story with us, Danby still triumphs. If there's a theatrical equivalent of the Purple Heart, the medal is hers.
Lafferty wrote this 1997 one-woman vehicle for herself and appears to have had a success playing in it over the years in a variety of venues. There are plenty of interesting stories, quotable quips, and intimate confessions contained within it, but the script is hampered by its unexplored conceit: Leigh is in the afterlife at her "final press conference." Why she is there, to whom she is speaking, and what she hopes to accomplish are unclear. There is no objective for the actor to play, which only makes Danby's ability to hold our attention even more impressive.
Elegant and ladylike in Catherine Siracusa's spot-on costume of basic black dress and heels, blue and violet scarves for head and neck, dangling pearl necklace, chic earrings, white gloves and stockings, and perfectly 1960s oversize black-and-white sunglasses, Danby has Leigh's physicality down cold. She's also good with the star's English accent, despite getting a bit, as Leigh might put it, mumbly here and there.
But these exteriors would be of no use without a portrait of the inner woman, and there both Lafferty and Danby deliver. Danby is compelling as Leigh shares freely in stories about artistic highs such as Scarlett O'Hara and "A Streetcar Named Desire," her scandalous adultery with Laurence Olivier that led to a famously troubled marriage, her affair with younger co-star Peter Finch and subsequent mental breakdown, electroshock treatments, her adversarial relationship with rock-star critic Kenneth Tynan, battling tuberculosis, and, toward the end of her life, her fear that she "can no longer park the crazy Vivien on the other side of the camera." Particularly notable is Danby's expert aging of Leigh, stretching from the high-spirited girl who believes that "if you want something with all your heart and soul, you'll get it" to the tired and lonely woman who can see "the mania coming on like on oncoming train."
Under Austin Pendleton's astute direction, Danby's Leigh maintains an intriguing aloofness while spilling her guts out. Pendleton has her breaking the fourth wall to make eye contact with and speak directly to audience members, sometimes even sitting beside them in chairs kept deliberately empty, but even when she's in your face you can sense an innate reserve. The tension created underlines the dichotomy of a woman who wanted to be both just one of the boys and theatrical royalty.
Now, if Lafferty can find a greater purpose for her incorporeal press conference than just setting Leigh to talking, and if Mississippi Mud Productions can find the wherewithal to put the talented and accomplished Danby into a real theater, they just might have something.
Presented by Mississippi Mud Productions at the Alexander Technique Center for Performance and Development, 330 W. 38th St., Ste. 805, NYC. March 16–19. Fri., Sat., and Mon,, 8 p.m.; Sun., 3 p.m. (800) 838-3006 or www.brownpapertickets.com.