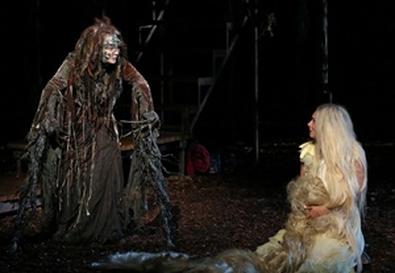 English directors Timothy Sheader and Liam Steel have had a capital idea for their re-imagining of James Lapine and Stephen Sondheim's classic fairy-tale musical, "Into the Woods," at the Public Theater's Delacorte digs. They have made the narrator a young boy who has run away from home after a blistering argument with his single father. The first act becomes the child's attempt to comfort himself by recalling a favorite story; the second act is his nightmare fed by that story. The result is the most moving account of the musical I've seen, yet just as charming and funny as ever. It makes for an enchanting night in Central Park.

Key to the show's success is the endlessly inventive physical production, all of it emanating from the lad's fertile mind. Soutra Gilmour—who designed an earlier iteration for the directors in London's Regent's Park Open Air Theatre—and John Lee Beatty's lush double-tiered forest set can be romantic or foreboding as needed, abetted by Ben Stanton's deft lights. Emily Rebholz's exuberant costumes wittily mix contemporary duds with more-traditional fairy-tale extravagance. Rachel Canning's exhilarating puppets create the beanstalk and the giant, among other things, in the blink of an eye, and we're even treated to the amusing sight of the witch climbing high to Rapunzel's tower on her daughter's golden locks.

The 22-member company is replete with fine performances. Heading them all is Donna Murphy's commanding turn as the witch. Both comic and scary delineating the witch's twin obsessions—herself and her daughter—Murphy maintains an underlying darkness that serves her well in Act 2. She offers the best witch's rap that I've encountered—crystal clear and acidly humorous, aided no doubt by Acme Sound Partners' superlative work—and her performance culminates in a stunning rendition of the usually problematic "Last Midnight" that's positively chilling.

Jessie Mueller's studious, slightly oddball Cinderella is a delightfully fresh take on the role and works well opposite Ivan Hernandez's effete prince, which the handsome actor contrasts nicely with his lubriciously sexy wolf. Sarah Stiles is a riotous Red Riding Hood, particularly when surreptitiously feeling up the wolf's pecs while dodging his advances during "Hello, Little Girl." Somehow both Amazonian and Lilliputian, Stiles' budding adolescent is a giddy mixture of street tough and perky soubrette, and Stiles scores mightily with a well-judged "I Know Things Now."

Gideon Glick and Kristine Zbornik play together with effortless vaudevillian timing as the dim Jack and his exasperated mother, with Glick ultimately touching in Jack's direct simplicity. Tess Soltau is an ethereal Rapunzel and quite droll chugging spirits while pushing a baby carriage in Act 2. Chip Zien, who created the role of the baker, returns to play the baker's runaway father with authority and resonance. Glenn Close contributes an appropriately dour recorded voice of the giant.

The production, however, is not flawless. Though Denis O'Hare does strong work as the nervous baker and shares a haunting rendition of "No More" with Zien, he is hampered by the casting of Amy Adams as the baker's wife. Though obviously talented and admirably diligent, Adams is a bit young for O'Hare, and the two never successfully develop the marital bond as equals that the show demands. The film star lacks the endearing throwaway eccentricities of the role's indelible creator, Joanna Gleason, and the saucy peasant grit of Kerry O'Malley in the 2002 Broadway revival. She's not bad, just bland, though her "Moments in the Woods" is clear and affecting. As Rapunzel's prince, Paris Remillard was added to the company late in previews when poor Cooper Grodin was struck with appendicitis. He's still finding his footing—perhaps the reason why he and Hernandez push "Agony" too hard for laughs—but he'll be fine with more time.

Fortunately, these flaws are subsumed by Sheader and Steel's inspired vision, which is spearheaded by young actor Noah Radcliffe (he alternates as the narrator with Jack Broderick) with a confidence and empathy that belie his years. The tickets are free and the lines have been long for "Into the Woods," but it's definitely worth the wait.

Presented by the Public Theater at the Delacorte Theater as part of Shakespeare in the Park, Central Park (enter at Fifth Avenue and 79th Street or Central Park West and 81st Street), NYC. Aug. 9–Sept. 1. Schedule varies. (212) 967-7555 or www.publictheater.org. Casting by Jordan Thaler and Heidi Griffiths.