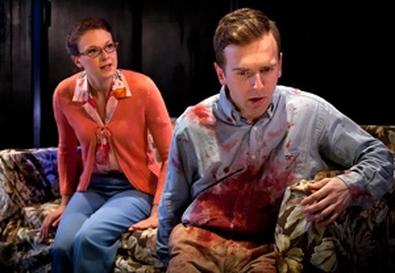 Playwright Nick Jones showcases his decidedly quirky wit in this septet of short black comedies, "The Wundelsteipen." Though there may be times when Jones strains his humor and our patience, there's no questioning that these occasionally incisive pieces, directed by Tom Costello, display the talents of eight members of the Flea's resident company of young performers, the Bats, in some terrific performances.
Nowhere is Jones' ability to simultaneously inspire gales of laughter and provoke thought more apparent than in the show's title piece, centering on two brothers, 13-year-old Derrick (played with superb understatement by Alex Herrald) and 12-year-old Matt (imbued with awkward preternatural maturity by Tommy Crawford), enjoying a backyard campout. Derrick's looking for a quiet night under the stars, while Matt's watching porn on his laptop. When they spy a shooting star, they revert to their younger, more innocent selves and silently make a wish. It's miraculously granted when Fairy (played with tongue-in-cheek hypersexuality by Briana Pozner) appears and offers them a deal. Her demands—and her scanty Victoria's Secret–inspired garb from costume designer Nicole Wee—not only are uproariously funny but also wonderfully comment on the dangers that come with kids' access to adult material on the Internet.
Equally funny—but less pointed and focused—is "Salome," which recasts the Biblical story as a Disney princess cartoon crossed with a contemporary play about familial dysfunction. This work reaches its amusing heights due not only to Pozner's comically petulant Valley Girl take on the young woman who demands the head of John the Baptist (played as a raving and stuttering lunatic by Donaldo Prescod) on a silver platter, but also thanks to Robin Frohardt's amusing puppet creations, which bring a talking and singing vulture (voiced by Herrald) and scorpion (voiced by Crawford) to plush, furry life.
Among the other successful pieces is "Welcome, Parents," a monologue that imagines a theater-camp director (Maren Langdon) speaking before her charges perform. Standing center stage and fidgeting nervously, Langdon imbues the piece with a humorously pitiable combination of fear, anger, and bitterness. There's also much to recommend "Everybaby," a modern morality play about how Good Deeds (Herrald) and Penance (Pozner) endeavor to help the title infant (a wide-eyed and almost beatific Prescod) after God (Dominic Spillane) has sent SIDs (Crawford) to the infant's crib. Unfortunately, Jones' promise of an explosive end, hinted at after revealing Good Deeds' bitterness over God's treatment of children, never arrives.
Similar disappointment awaits in "College Romance," about a trio of pals dealing with the fact that one of them (played with utter slacker dimwittedness by Eric Folks) suffers from "face blindness," meaning he can't tell girls apart. "Caligula in the Morning," about a slave (Crawford) attempting to wake the titular emperor (Spillane), initially amuses, but it runs out of steam before its potentially devastating conclusion. And "Super Supportive Family," in which a husband and a wife try to help their adult son after learning that he's dismembered a young woman on their first date, has decided but unreached potential, though you may not mind because of Herrald's creepy turn as the son and Langdon's weirdly sunny performance as his mom.
Presented by and at the Flea Theater as part of the New Play Festival, 41 White St., NYC. May 8–23. Schedule varies. (212) 352-3101, (866) 811-4111, www.theatermania.com, or www.theflea.org.