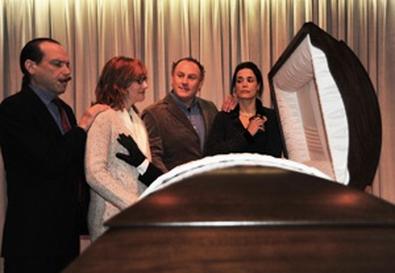 Not really a farce or all that dark, this 80-minute play—still a work in progress, one hopes—is clearly aimed at a very specific and relatively narrow demographic: early baby boomers, those 66 or about to be, what playwright John J. Ronan calls the "pre-geezers." Ronan's script takes its inspiration from the early-20th-century Irish poet and dramatist William Butler Yeats, who once wrote "Only two topics can be of the least interest to a serious and studious mood—sex and the dead."
While non-Yeatsians might well argue this premise, the four characters in this ménage would not. Two Massachusetts couples, each married for 30 years or so and longtime friends, talk about and are obsessed by little else. Jack, an academic given to quoting not just Yeats but also other writers, has invented the Yeats game by literally pasting handwritten pieces of paper onto a Monopoly board. Playing Jack's version of 21st-century strip poker, no one buys hotels or goes to jail and two people who land on the same square have to have sex, after a few more easily manipulated rolls of the dice and several additional drinks. Believe it or not, Jack is the play's most fully realized character, and Lucius J. Wall, who plays him, is giving the best performance of the four.
Jack's wife, Ellie (Susan Stout), is the self-important mayor of a small town and the wearer of a platinum fright wig that she removes at bedtime, even strokes, but never explains. The other husband, Bobbie (Toby Wherry), is a sports nut who says his "sex drive is so low I'm starting to treat women as people." His wife, Margaret (Jennifer Silverstein), is a therapist who is not very good at self-analysis. One night of a drunken weekend in a country cabin, this uninspiring quartet plays the Yeats game in desultory fashion but still manages to end up in romantic and sexual confusion. The death part comes during their morning-after rehash, when a phone call informs them of the passing of a friend of similar age. Later, over his open casket, they say nice things about him but spend more time imagining their own deaths and mini-eulogies for and from the other three.
Director Kathy Richter has done her best to showcase these large themes and small people on an even smaller stage. The lovely incidental music by David Buddin and sound designer Timothy Dahl is the best thing about this production, which should not be the case in a nonmusical play.
Presented by American Storyboard at the Producers' Club, 358 W. 44th St., NYC. Feb. 29–March 25. Wed. and Thu., 7:30 p.m.; Fri. and Sat., 8 p.m.; Sat. and Sun., 3 p.m. (212) 868-4444 or www.smarttix.com.