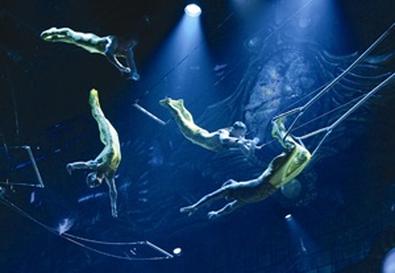 Last summer's "Zarkana" was a dark epic, a love story that radiated throughout every inch of Radio City's cavernous hall. Writer-director François Girard created a mythical tale of a red-caped wizard, a modern-day Prospero who sought to regain the love of his life after being trapped in a haunted theater for nearly a century.

The surrealistic production featured operatic duets and a mind-boggling set, with giant spider webs and men hanging upside down with umbrellas, mimicking René Magritte's famous paintings.

Some derided the show's ambition, with one critic complaining about the "more-is-more relentlessness of it all." Whether Girard listened or simply wanted to slim down the show before it moved into its new home at Aria Resort & Casino in Las Vegas—replacing "Viva Elvis"—is anyone's guess, but the show is now a lean, intermissionless 90 minutes.

"Zarkana" 2.0 trades in some of the operatic trappings that were weighing down its predecessor, making it less "Magic Flute" and more Harry Potter. Girard returned the focus to Cirque du Soleil's core appeal: eye-popping visuals, daring acrobatics, and inventive theatricality. He also replaced the English lyrics with their trademark "Cirq-lish," a made-up language designed to give the songs an otherworldly feel.

The essential story is the same: Zark the magician (Paul Bisson) searches for his love in the bowels of an old theater inhabited by a mischievous group of swamis, escaped prisoners, ballerinas, French soldiers, mad scientists, and misfits. He meets with exotic women creatures (all played by Meetu Chilana). In between, acrobats and aerialists perform Cirque's trademark death-defying feats of skill, including the aptly named Wheel of Death.

Bisson and Chilana make a dynamic duet, her soaring voice a nice interplay with his more fluid tenor. Girard still makes time for quieter pieces, such as gorgeous sand painting by Erika Chen and the crowd-pleasing acrobat Anatoly Zalevskiy, who performs a simple routine displaying strength and elegance.

Presented by Cirque du Soleil at Radio City Music Hall, 1260 Sixth Ave., NYC. June 6–Sept. 2. Tue.–Sat., 8 p.m.; Sat., 3 p.m.; Sun., 7 p.m.; Wed. & Sun., 2 p.m. (866) 858-0008 or www.ticketmaster.com.