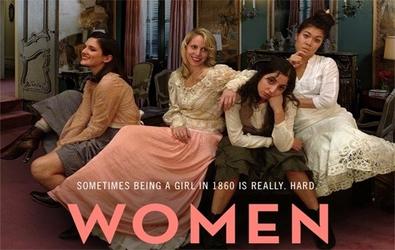 The Hollywood Fringe had a wide array of offerings this year, including a "Girls"-themed stage play transplanted from New York and a "bromantic tragedy."
The festival continues to struggle for recognition outside of the arts community in Los Angeles, although it's been attracting a growing audience of theatergoers. Attendance has nearly doubled in the last four years, going from 17,000 in 2010 to 35,000 last year. Figures for this year are still being compiled, but organizers said it was an increase over 2013.
"Every year we feel like it was better than last year," said Ben Hill, the festival's director and founder. "But in the end, it's about community. I think a lot of other festivals miss that. We believe that it's out of that sense of community that comes future great art works."
The two productions singled for recognition by the audience were "NO HOMO - A Bromantic Tragedy," a play about two best friends who have been roommates for six years. All their friends and family are convinced Luke and Ash are secretly a couple, even though neither man is gay.
The second audience-voted award went to "Women," a mash up of "Little Women," the Louisa May Alcott novel, and "Girls." The play was originally produced at the Flea Theater in New York.
The full list of shows getting at least one extended performance includes:
•Theatre Asylum: "Friends Like These," "Gimplecapped: A Journey of 'Inspiration,'" "Linden Arden Stole the Highlights," "Man's Dominion," "Meet & Greet," "The Mermaid Who Learned to Fly", "NO HOMO- A Bromantic Tragedy," "Odessa," "Reborning," "Riot Grrrls Save the World," "Schachner Vs Schachner," "Seven Seductions of Taylor Swift," "The Wake," "Into the Fog" and "Woof Woof."
•The Complex: "52 Pick Up," "Beau & Arrow," "Belli Gemelli – A Opera Sitcom," "Boss: The Untold Tony Danza Story," "David & Leeman – Magic and Other Dangerous Things," "Jackass- A Prom Story," "Love Is," "Memoirs of a Bartender," "Open Mike," "Schoolcraft and Murray," "Starcross'd," "Stumbling Along," "Poofy du Vey in 'Burden of Proof'" and "Things Being What They Are."
•The Lounge: "Bronies: The Musical," "I Want To Bury My Testimony," "Lincoln Adjacent" and "Waitless"
•The Lex: "Zombies From Beyond."
•Three Clubs: "Fancy: Tales from My Bootydoir," "Lydia Trueblood: The Black Widow of the Atlantic Coast," "Some Girls(s)" and "The Cave."
•Actors Company: "Angels and Whiskey," "Bonnie's Future Sisters," "Death by Powerpoint," "Eddie, Rapture, Ravens and Writing Desks," "The Importance of Being Earnest," "The Most Massive Woman Wins" and "Twelfth Night"
•Cupcake Theatre: "Snow White: the Musical," "The Last Five Years," "RSVP: RIP" and "That's Why I Hold On"