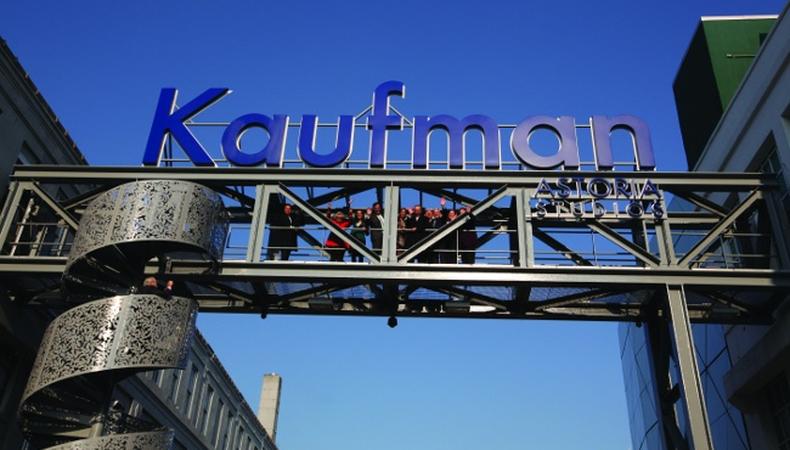 The days of moving to L.A. for film and TV work are over, with production of television and film in New York at an all-time high. The number of episodic series filming—or that have already wrapped—in New York has quadrupled for the current television season compared to just over a decade ago. As the demand for shooting in New York continues to rise, Kaufman Astoria Studios responded to its customers' needs with its most recent addition to the Queens facility: a block-long backlot.
While Kaufman Astoria officially unveiled the space Dec. 3, studio president Hal Rosenbluth said that the construction of a backlot was always in the plan for this space. "If you're going to believe you're a real studio, there was this idea that you would have a backlot and you would pull up to this nice big gate, like you would at Paramount, and ask to be admitted," he said. With a monumental gate designed by David Rockwell, Kaufman certainly achieved an iconic look for the first backlot in New York City.
Tourists and community members have already begun to flock and admire the touch of Hollywood. "[The gate] helps bring more traffic," said Rosenbluth. "If you successfully recreate the production stage, you can use it as an anchor to reinvigorate the neighborhood." Since taking over the property in 1980, owner George Kaufman's mission has been to use the studio to reconnect the landscape and the people of Astoria and serve as an economic catalyst for the district. "It's the domino effect on nearby restaurants, coffee shops, clothing stores, and even the local lumberyards," said Queens Borough President Helen Marshall.
The opening of the backlot isn't just a benefit to Astoria residents. The new space will reduce the need to film on city streets throughout the five boroughs. A simple stunt scene of a man hit by a car can happen easily on the lot. "We couldn't [film] that before without permitting [a street] from the city, getting a police detail to cordon off the street, dealing with crowd control," said Rosenbluth. "So filming on the backlot makes production life really easy."
"It's in the spirit of the one-stop shop," said NYC Mayor's Office of Media and Entertainment Commissioner Katherine Oliver. "A show can come to Kaufman Astoria, use their interior stage space, but if they need to go outside they just walk a few steps and go to their backlot." The mere existence of the backlot presents new options to producers, since the street guarantees a controlled environment in which they can house external sets for an extended period of time. "That's a very unique thing for New York," said Rosenbluth. "It doesn't really exist here."
When vying for business, the backlot sharpens New York's competitive edge. In addition to top-notch crews, skilled infrastructure, expert services, and the landmarks of New York City, producers now have a more ideal, multipurpose facility.
"If we can accommodate the business, and we are able to be flexible and responsive to the customer needs, you'll probably get repeat business, and that's what we're seeing," said Oliver. As New York garners increased production appeal, more city studios with the real estate to create a backlot may choose to follow suit. "Everyone is going to think about it and look at us and see if we're successful," said Rosenbluth. "And if we're successful they're going to want to try to do the same thing in their facilities."
As the Big Apple's appeal strengthens, it reflects in the job market as 130,000 New Yorkers work in the city's entertainment industry—an increase of 30,000 since 2004. Entertainment professionals can be sure that with innovations like Kaufman Astoria's backlot, New York's hold on the industry will only continue to gain traction.