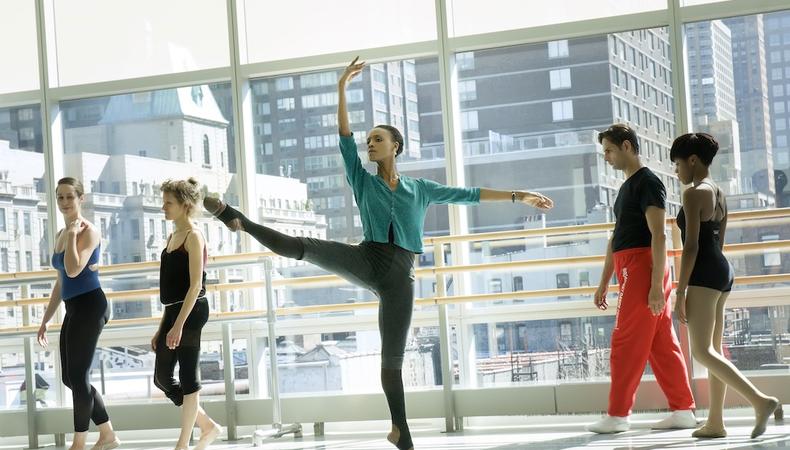 So you've decided to move to New York City to leap into its vibrant dance scene—well done! Finding a place to live should be the easiest part of this decision, right? But how do you actually choose where to live within this massive concrete jungle? Depending on where you are going to spend most of your time, what you're looking for in a neighborhood, and how much stimulation you can take, the following suggestions should give you a good sense of where you may feel the most at home. Whether you're dreaming of Broadway and enjoy the buzz of Times Square or would prefer nature and calm, we have something for you.
Astoria, otherwise known as "Actoria," can be a great spot for dancers and actors alike. The NWR subway lines run directly between Midtown and Queens, making it easy to get to many Broadway and theater auditions. This neighborhood has delicious cheap eats, a warm sense of community, and is still holding on to some affordable rents. You'll need a roommate or two, but it is an ideal area for an artist. Another great perk about getting to Midtown efficiently is its proximity to incredible dance classes. You can reach New York City Center, a great venue for dance performances as well as classes, in just a five-minute walk from the NQRW at 57th St. and Seventh Avenue. Also about a five minute walk away from the Times Square subway station is Broadway Dance Center, located on 45th street between 8th and 9th Avenue. You can find all your commercial dance needs here, with a plethora of classes active during all hours of the day.
Washington Heights, situated above Upper Manhattan, is closest to the A, C, and 1 trains, giving you a straightforward commute to Midtown. If you're going to Times Square and Hell's Kitchen often for auditions, this may be the perfect neighborhood to give you some elbow room with an affordable rent, and still get to where you need to go without much hassle. Broadway Dance Center, The Ailey School, and Steps on Broadway are all very accessible as you commute south, giving you infinite class options no matter what genre of dance you're focusing on.
READ: Booked Your First Dance Gig? 7 Things You Should Do
Inwood takes us even further north along the A line, giving you similar options as Washington Heights when it comes to dance classes. If you're a lover of nature and don't want to give up being surrounded by trees or waking up to the sound of birds, this cozy neighborhood is definitely your best bet. Inwood Hill Park, a major city perk, feels like a serene getaway compared to the heightened city energy. You'll really feel like you can escape to your own oasis at the end of a long day of work, classes, and rehearsals.
East Harlem is rich in community and culture. If you're looking for museums to give you enrichment and inspiration as an artist, this neighborhood is home to El Museo del Barrio and the Museum of the City of New York. Not too far off on the Upper East Side is the 92nd Street Y, a historical arts center with plenty of lectures of dance performances for you to immerse yourself in. Being off the 4 and 5 subway lines will also make going to Peridance and Gibney Dance Center practical for dance classes. They may be downtown, but this express line will get you there quickly enough to make that 10 am ballet class.
Clinton Hill will have you a hop skip and a jump away from a few incredible dance centers with affordable classes. Clinton Hill is one neighborhood over from Fort Greene, home of Mark Morris Dance Center. Also nearby is Brooklyn Studios for Dance, located between the Fulton and Classon Avenue G stops, as well as a few minutes away from the Clinton-Washington C stop. The Pratt Institute lies in the center, so if you're looking for a beautiful sculpture garden to relax in, this is it. Clinton Hill is also home to Gallim Dance, a contemporary dance company based out of the Church of St. Luke and St. Matthew. The vibe is homey and community-based, so you'll be sure to find a cozy cafe you enjoy, farmers markets, diverse restaurants, and if you're in the mood to see some dance and get inspired, the Brooklyn Academy of Music (BAM) is also in walking distance.
Red Hook is a unique waterfront area with an incredible view of the statue of liberty. If you're someone who likes to get away from the city hustle and enjoy art and a little peace and quiet, this secluded neighborhood may be just right for you. Pioneer Works and Red Hook Labs are a couple of major artistic gems who have found their home here. One thing to keep in mind is that there is no immediate subway located in this area, so you will need to be comfortable with taking the bus or even better, biking! You can still find affordable rents here, but you'll have to move soon. These shipyards and old warehouses are charming others over, too.
Check out Backstage's New York City audition listings!