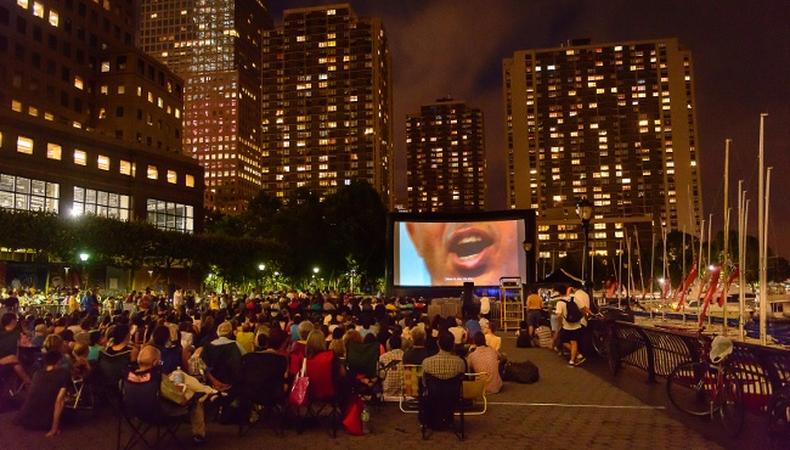 Rooftop Films isn't your typical film festival. Now in its 21st season of showing independent films on rooftops across New York City, the organization aims to foster a community around each screening by creating multimedia programming, including filmmaker Q&As and musical performances, to bridge the divide between artist and audience. Creators who are part of the Rooftop club include Lena Dunham ("Girls"), David Lowery ("A Ghost Story"), and Oscar nominee Benh Zeitlin ("Beasts of the Southern Wild").
What kind of films catch your eye?
We're looking for movies that do something we've never seen before. Sometimes the film is rather experimental or is formally innovative, but in other cases the story is told from a perspective we've never seen before, or it's a story that's taking a completely new approach to a subject matter we might be familiar with. [For example], a movie that I really love is "The Big Sick"; it's a rom-com in a lot of ways but it deals with a lot more serious issues and has the perspective of this interracial romance. That's an example of a movie that's formally a rom-com and doesn't shake up that genre, but in terms of the approach it takes to the comedy, it's really innovative.
What is Rooftop Films' mission?
We have a fund where we give grants to filmmakers and we help other organizations throw their own events, but the thing we're best known for is the Rooftop Films summer series; it consists of more than 45 outdoor screenings of new and independent films that take place all around the city. We go all summer long, so we've got three or four shows every week. Our screenings are always outdoors, often on rooftops. In addition to that, we do things to enhance the screenings, like [organize] live music before films, and we have afterparties that are free for all of our ticket buyers. It's a way to see great new projects and also to meet the people who work on them. We have a big community of filmmakers who come out to our events on a regular basis. For a lot of actors, composers, and others, it's a really great way for people to network and truly become friends and, hopefully, collaborators.
Was that community something you had in mind when developing the programming?
One of the things I've never really loved about certain film festivals is this VIP, red-carpet exclusivity, where certain people are allowed to participate in the conversation, certain people are invited to the party, and other people are not. We have much more of an industry presence at our screenings than we had at the beginning; that wasn't necessarily a part of the plan, but I think it's great that we provide filmmakers with the opportunity to mingle with distributors and other professionals.
Have some filmmakers you've supported made connections that lead to larger deals at Rooftop Films events?
Absolutely. Some of the better-known filmmakers we've worked with previously are people like Benh Zeitlin. We showed his very early short films; we gave him a grant to make [his first feature] "Beasts of the Southern Wild"; and we introduced him to the people who produced it...via Rooftop Films. We presented the New York premiere of Lena Dunham's "Tiny Furniture." Jordan Vogt-Roberts, we showed his short films and his first feature film, and he just made the most recent "Kong: Skull Island" movie. David Lowery, we showed his shorts [and] gave a grant to his feature film "Ain't Them Bodies Saints," with Rooney Mara and Casey Affleck. We've had quite a few filmmakers whose early work we supported, where we've played at least some small part in helping them to the next level.
Are there any themes in the independent film world that Rooftop is helping propel forward?
One of the things that we're always trying to do in terms of presentation is to create as fun and immersive and social and interesting an environment as possible for showing a movie. When we started, there weren't a lot of movie theaters that were doing that.
How do filmmakers and other artists get involved?
As far as films are concerned, we take submissions. We get over 3,000 films a year. We have a whole team of people that watches all of the new stuff coming in. We also travel to film festivals around the world.... A lot of the films also come to us by recommendation. We've been working with different filmmakers and producers for almost two decades—any way we can to get our hands on something new and interesting. As far as musicians and various other performers [go], we do have a submission process as well. We have a music coordinator who does the majority of the booking. One of the other things that we always encourage people to do, whether it's actors, directors, or musicians, is come out to a show and introduce yourself.
Hoping to get your film seen at Rooftop? Check out Backstage's film audition listings!