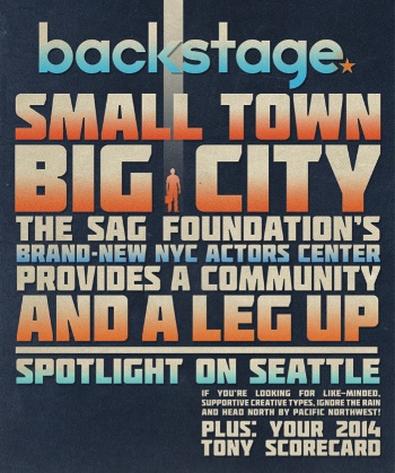 In a business where performers often fight for survival on the way to success, the Screen Actors Guild (SAG) Foundation is the communal bolster, one that brings a small-town sensibility to the support it provides.
Billed as "standing by our own, giving back to others," the SAG Foundation is the philanthropic organization that serves primarily SAG-AFTRA union members. "I always think of it as a three-legged stool," says Jill Seltzer, executive director of the SAG Foundation since 2011. "The training about the business side of the profession; financial help to performers in crisis; and the third, which makes us quite unique, a literacy program [BookPALS, Performing Artists for Literacy in Schools] that sends performers into public schools and social services agencies to read to kids." The SAG Foundation operates separately from the guild—serving its members but deriving zero funds from union dues—and relies on contributions to provide financial relief and training resources.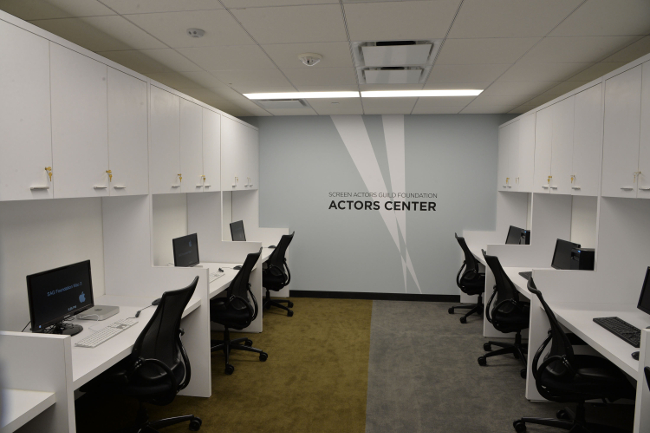 A life in the business promises an unpredictable income and requires a substantial amount to maintain and progress. The SAG Foundation provides money for emergency services and its Catastrophic Health Fund specifically covers health care costs and insurance payments for injured and ill actors, but the average actor can easily spend $300 to $500 per month investing in her career through acting classes, voiceover studio time, or installing pricey software to produce reels and content.
To subsidize those costs, the Los Angeles branch has hosted free programming at its Actors Center since June 2008, notably the popular Conversations series—in-depth Q&As with an actor about his or her body of work—LifeRaft seminars on skill-building topics such as vocal health, and the Casting Access Project (CAP), in which 20 actors attend a two-hour work session with a casting director.
While the L.A. branch was equipped to provide and house these services and events, New York City struggled to meet the demand. As membership increased with the merger of SAG and AFTRA in March 2012—and with the presence of Actors' Equity members at Conversations and LifeRaft events—it became clear to SAG Foundation President JoBeth Williams and her team that something had to be done. "We were using spaces around the city—some of which were sometimes not available," says Williams. "We provide incredible free programming, but we had no place to do it."
Not anymore. On May 27, the SAG Foundation opened the New York Actors Center at 1900 Broadway, just across the street from Lincoln Center.
The new center, consisting of a classroom, a voiceover lab, and a computer lab, brings with it a slew of brand-new programming previously unavailable to New York performers. Set to house CAP workshops and BookPALS training, beginning in September the classroom will also double as an on-camera audition room where members can book time to film with the help of an administrator who will manage the lighting, sound, and camera equipment.
The crown jewel of the center is the Entertainment Industry Foundation Voiceover Lab. Named in honor of EIF's facilitative donation earlier this year (in conjunction with People magazine), SAG-AFTRA and Equity actors can reserve lab time to practice in the solo booth or collaborate with an experienced sound engineer in the main booth. "We're educating you on what you're going to run into in the real world," says Seltzer of the state-of-the-art space. "We want to be the place where you come and learn the cutting edge that you better know within the field."
"It's like a gym for actors," says Alysia Reiner, a cast member of Netflix's "Orange Is the New Black" and longtime SAG member. "The thing about acting is that there is no end to your training. You always hone your craft in all areas." Though Reiner has her own home studio, she anticipates learning in the lab. "I've booked a lot of commercial work and narration work, but I've never done an animated series," she says. "If I found out they're doing something about an animated series I might go and be like, 'Wow, I want to learn about what tips can I get on being an animated voice.' "
The computer lab complements both the audition room and voiceover lab, since users can learn programs like Final Cut, iMovie, or Premiere to create a marketable reel—plus Adobe Creative Suite skills, handy when designing websites, business cards, and more.
In the age of YouTube, it's practically mandatory to produce and promote your own work. Erik Baker and his wife started their own production company, 4th Wall Down, and just produced their first short. The center is a game-changer for someone like Baker, a New York–based actor and a SAG member for nearly 20 years. "New York is already expensive and as a parent it's incredibly expensive," says Baker. "This will literally mean that I'm able to continue with some of my own projects and be able to edit them and be able to do new reels and a new website and get more into voiceover and it's not going to cost me anything but my own time and blood, sweat, and equity."
Ironically, the addition of the New York Actors Center does very little in terms of housing the in-demand programming that led to its creation. While the New York CAP and BookPALS training sessions will take place in the classroom, Conversations and LifeRaft panels will still take place on campuses throughout the city. New York Program Director Stacey Jackson sees this as an advantage.
"What we really love about New York is that we're out in the community," she says. "It would be great to have a screening room, and certainly that will be a final component, but the wonderful partnerships and friendships that we've made because we've had to be a little more scrappy have actually helped us have a larger presence. [Regardless], it's the only center of its kind in New York City to offer free resources and free events, and so we envision it as a home for union members who can come here and hone their skills and meet fellow members."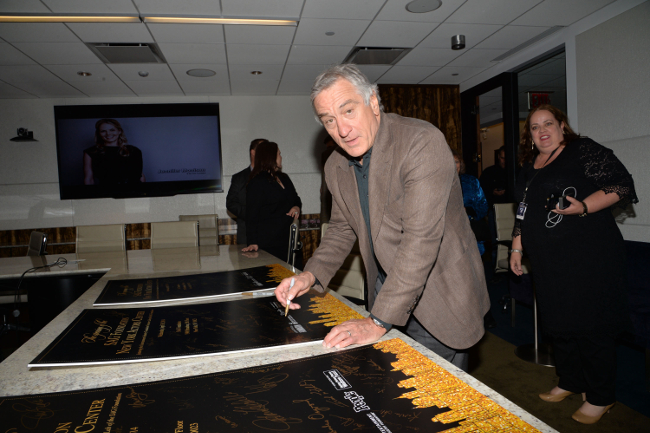 That sense of welcoming can foster relationships that can, in turn, lead to more work for members. "Probably 75 percent of the actors I've met and started to work with are coming out of people I met at SAG Foundation," says Baker. "Since I'm producing and everyone else is producing, they see your work and you get asked to do stuff; I see people that I think are gonna be a great fit for something I'm working on."
"It's a place to meet, it's a place to convene," says Emmy and Tony winner Judith Light. "It's a place to talk to other people about what they're doing. There's a level of camaraderie that comes with a place like this."
With all of this member traffic, the Center inherently increases the visibility of the SAG Foundation. "For our members in New York, this is a godsend," says Williams. "The higher our visibility, the more money we will receive in donations and the more members we will be able to serve." For the next three to five years, Williams expects the staff will expand on programming that is currently in place.
Actors like Reiner are ready to contribute. She hopes to coordinate a LifeRaft panel on "giving back" and spearhead a mentorship program. "Giving back can really make you appreciate how far you have come," she says. "To feel like you've been a big service to someone and that you're helping the next generation of actors."
A reply to the high demand for service in this mecca for actors, Seltzer expects the institution will remain responsive. "I hope that we are as attentive to listening to the needs of the people we serve, as well as being wise enough to know what to offer to the brand-new people who might not know what to ask for. That's a careful balance."
"I know a lot of people come [to New York] and they're scared and they're nervous and you need family and you need support," says Light. "This is one of the most viable, important, varied, and supported organizations that can help you do that so that you're not alone."