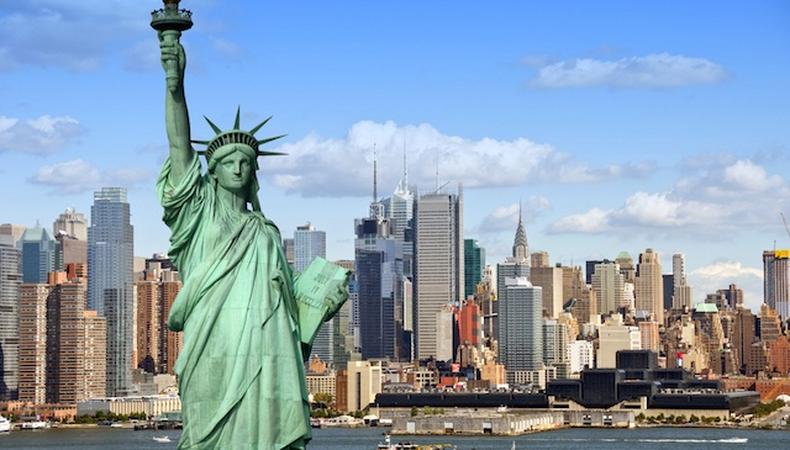 If there was ever any doubt that New York City is one of the greatest hubs for actors and entertainers of all kinds, June 8's 50th anniversary commemoration of the Mayor's Office of Film, Theatre, and Broadcasting about sealed the deal.
Rounding out a record-breaking year for New York–based film and television production, Mayor Bill de Blasio, Deputy Mayor Alicia Glen, and Mayor's Office of Media and Entertainment (MOME) Commissioner Julie Menin announced Alicia Keys, Lady Gaga, John Leguizamo, Robert De Niro, and Jane Rosenthal as MOME's official ambassadors, who will represent and promote "the contributions of artists, entertainers, and professionals to the city's cultural identity and thriving creative economy" for the next year, according to a press release.
At the Museum of the Moving Image ceremony in Queens, New York, on Wednesday, MOME also announced a slew of fresh initiatives that will create more opportunities than ever before for New York–based actors—as well as more ways for actors to be engaged with area productions.
READ: 14 Ways to See Cheap Theater in New York City
MOME's 50 for 50 initiative, for instance, will provide 50 events through the next calendar year that will offer a behind-the-scenes look at the city's entertainment industry. All events will be free and open to the public! Access Broadway is another; this one will gift over 1,000 free Broadway tickets to New York City Housing Authority residents. MOME Movie Matinees will give low-income residents a slew of free feature film screenings during August 2016, and Broadway in the Boroughs will stage free stage performances through the city this season.
To stay on top of the latest from MOME, they've also developed a "50 Years of Magic" mobile app that stays up to date on 50th anniversary celebrations and initiatives to come.
"Fifty years after the formation of the Mayor's Office of Film, Theatre and Broadcasting, the prospects for New York City's film and TV industry have never looked brighter," MOME commissioner Menin said at the event. "The industry generates nearly $9 billion annually for the city's economy—up 21 percent from just four years ago—and employs over 130,000 hardworking New Yorkers with good-paying jobs. We are thrilled to present this year of events and initiatives aimed at exposing New Yorkers from all backgrounds to everything that the media and entertainment sectors have to offer."
For more information on the Mayor's Office of Media and Entertainment, visit nyc.gov.
Inspired by this post? Check out our New York City audition listings!