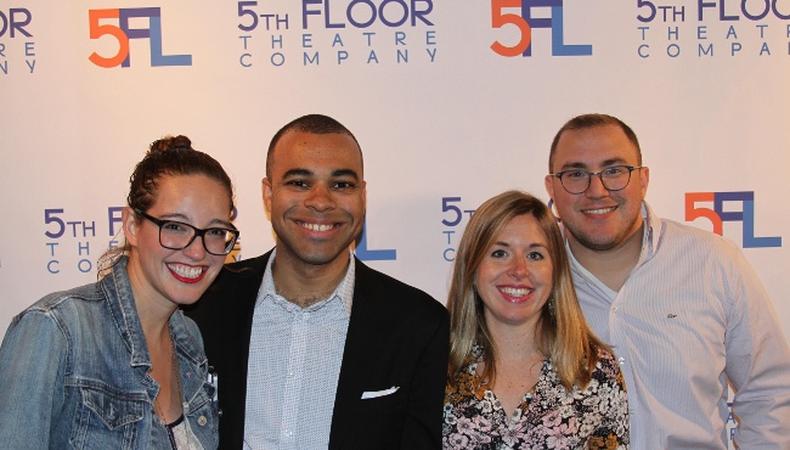 Since its founding in 2008, 5th Floor Theatre Company has produced plays and musicals in New York City while equipping its company members with industry support and guidance. Now, the organization is transitioning to nonprofit status with the intent to further provide a foundation for aspiring nonunion theater professionals.
"We landed on this idea of wanting to sort of be the Second City of the New York theater scene," explained Corey Chambliss, 5th Floor Theatre's co-founder and director of marketing. "We're excited to have discovered our voice, so to speak, as a nonprofit, and that's come from working with aspiring professionals to really zero in on what the need is for nonunion theater artists."
Founded by Chambliss along with four other performers all working traditional desk jobs, 5th Floor was initially determined to provide a space for "9-to-5ers" in need of a legitimate performance outlet. It became clear, though, that it more heavily attracted a different type of performer: the nonunion actor breaking into the New York scene.
"Over the last five, six years, we realized that's the audience that really needs the service we are trying to provide," Chambliss said. "That's where this new mission and this new restructuring as a nonprofit came from."
5th Floor—which boasts notable alumni, including "Spider-Man: Turn Off the Dark" star Jason Gotay, among others—held an event Nov. 6 at the Delancey in New York City to reintroduce itself in its new iteration. The evening, called Start on 5th Floor, featured performances by both theater company alumni and current company members and was hosted by alum-turned-board member Michael Gioia. In addition to detailing new initiatives as a nonprofit and announcing its 2017 season, the event also allowed 5th Floor performers and others in the industry to rub shoulders in an intimate setting, something Chambliss hopes to thoroughly incorporate into the new infrastructure.
"We want to hold events that provide an up-close-and-personal level of insight into the workings of the industry itself," Chambliss said. "One of the first events we do in that regard will probably be something with casting directors. We want to say, 'Hey, this is what casting directors are thinking when you walk into the room'…so that maybe the prospects are a bit less intimidating to those who are new to the process."
In its new incarnation, 5th Floor hopes to continue nurturing nonunion actors while expanding to novice nonperforming theatrical professionals, like playwrights, directors, and technicians.
Above all else, 5th Floor intends to continue providing fuel for artists in an industry in which passion can often be squandered. "In working closely with actors, we've seen the competitive nature and the unforgiving environment of the professional theater landscape in New York," Chambliss said. "We realized this was important when we really saw that it's providing almost a return to why people who do theater came to love it in the first place."
Ready for center stage? Check out our theater audition listings!