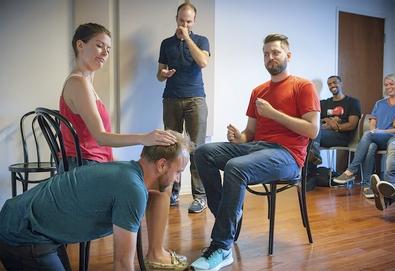 Readers' Choice for Favorite Improv Training Center: Upright Citizens Brigade
If UCB being named New York's favorite improv training center is true, what else is true? It's true that Amy Poehler, Ilana Glazer, Abbi Jacobson, Jessica St. Clair, and Lennon Parham fans everywhere can rejoice: UCB, the school that bred all that genius, is still going strong.
The same notion of "If this is true, what else is?" lies at the center of any improv or scripted sketch, yet what sets UCB apart from other schools is its congruous approach to the well-known.
"When you first learn it, it's a heady concept," says academic supervisor Johnny Meeks. "It's this idea that we're almost searching for a code, which most improvisers can identify and adhere to, and the more you practice, the more liberating and easy it is to play and the more you can focus on acting, performance, and dialogue."
While Meeks says the conceptual question is a "unifying theory throughout improv and sketch," UCB core class instructors are on the same page about the idea, as opposed to other schools that can vary in ideas and approaches depending on the teacher. (Once in the advanced levels, instructors have more freedom in what they bring to the classroom.)
With New York locations in the East Village and in Chelsea, as well as locations in L.A., UCB's bicoastal reputation precedes it, but it has the teaching chops to back it up. "We went through a seven-year process to become accredited as an official school by the same organization that accredits colleges," UCB founding member Matt Besser told Backstage in 2014. "It was important to get our curriculum straight, and as a result of that, we also came out with this book ['The Upright Citizens Brigade Comedy Improvisation Manual'], which basically codifies all these improv teachings."
UCB teaches students to play to the top of their intelligence, as opposed to going for the easy "funny choice," which takes the pressure off beginners, according to Meeks.
In addition to the many benefits of learning improv, which have helped the supervisor in situations like commercial auditions where he's expected to riff, and the accredited curriculum, Meeks says UCB's sense of community is what keeps students returning to the theater's weekly shows and the school's training center.
"It's a comedy collective; with long-form improv there's support, and that creates a group mindset," he says. "It's addicting being around people who want to make you look good."
Check out interviews with all of the 2015 Readers' Choice winners, coming to you throughout the week!