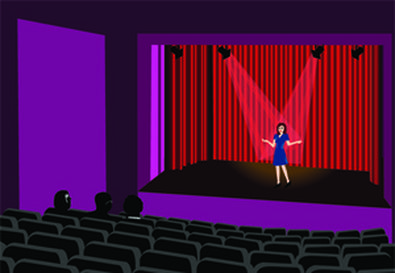 Here are the 2010 New York Reader's Choice results for categories dealing with performing onstage. To look at all of the categories, be sure to visit the main page.
Favorite Rehearsal Studio: Ripley-Grier Studios
"Clean," "professional," and "inviting" are words actors use repeatedly to describe Ripley-Grier Studios, an operation now celebrating its 23rd year and with three locations in Manhattan.
Patricia Ripley, who runs the studios with her husband, Butch Grier, says the spaces are used for auditions, rehearsals, and classes, among other purposes. There's even a lock-out area that boasts a kitchen, three studios, and lots of storage for performing artists or productions that need the space for extended periods of time. It's totally private, she says. Ripley also talks with pride about how she designed the spaces utilizing feng shui principles, which incorporate light, plants, and color into organically flowing areas.
Actor Scott Guthrie appreciates the comfortable seating, the café, and the Wi-Fi. Michal Sinnott likes hanging out at Ripley-Grier between rehearsals or auditions that may or may not be held at the studio. It's a calming oasis, they agree, adding that space is always available.
Carol Neiman is impressed with Ripley-Grier's professionalism, in contrast to so many other studios, where "you get the feeling the goal of the owners is to make as much money as possible and do as little as possible for it," she says. "It may be a little more expensive than other rehearsal studios, but it's a tradeoff and it's worth it."
Ripley-Grier Studios, 131 W. 72nd St., NYC, (212) 799-5433; 939 Eighth Ave., Suite 307, NYC, (212) 397-1313; and 520 Eighth Ave., 16th floor, NYC, (212) 643-9985;
[email protected]
;
www.ripleygrier.com
RUNNERS-UP:
Simple Studios, 134 W. 29th St., NYC; (212) 273-9696;
[email protected]
;
www.simplestudiosnyc.com
"They're beautiful, airy, clean and conveniently located." — Kelly Haran
"Beautiful space, efficient and friendly staff" — Larry Rosen
Shetler Studios, 244 W. 54th St., NYC; (212) 246-6655;
[email protected]
;
www.shetlerstudios.com
"Affordable, a big Green Room, and many different types of studios available for rental." — Wayne Chang
"The cafe is the sleeper restaurant of Hell's Kitchen." — Michael Benjamin
Chelsea Studios, 151 W. 26th St., 5th floor, NYC; (212) 924-5877;
[email protected]
;
www.theatreworksusa.org/chelsea.cfm
—Simi Horwitz
Favorite Off-Off-Broadway Theater Company to Act With
and
Favorite Off-Off-Broadway Theater Company to See: T. Schreiber Studio
"I think that something really unique is happening at the Terry Schreiber Studio," says actor Ian Bell. "I think the instruction and the approach to the craft carry over into their productions. I think the acting and the direction are really on point." Many of Bell's fellow Back Stage readers agree, having voted the theater, which is both an acting studio and a performing company, their favorite Off-Off-Broadway theater company to act with and to see for the second year in a row.
"All of us work very hard here to give the actors—and we cast strictly from people studying here and the alumni—the most professional-quality production we can give them," says Schreiber. "I'm very pleased for the faculty and the other directors that we've been honored again. It's a wonderful feeling that your work is paying off."
Kelly Haran notes the high quality of the physical production when she has appeared with the company: "I had a wonderful experience as a student there, so I started seeing their productions. I was very impressed with the production values, the quality of performance, and just the commitment. I feel it's a theater that loves its actors and takes care of them. When I was in a production, I enjoyed it immensely. It was with Terry Schreiber directing, actually. I was in the ensemble of 'The Cherry Orchard,' but I absolutely felt that I was a part of it. It was a delight. I had been away from theater for a little while, and it was just a comfortable and nurturing atmosphere. It was an absolutely stunning set; it was lovely and beautiful. Friends of mine coming to see the show I think were expecting a little black-box kind of theater."
"It's a real theater with professional set designers, costume designers, producers, and a budget," echoes Marguerite Forrest. "Everything's professional. The only reason it's Off-Off-Broadway is because it's a school; otherwise it would be Off-Broadway. I was in 'Rosencrantz and Guildenstern Are Dead' as Ophelia. It's the best Off-Off-Broadway theater I've been with. It's a real rehearsal period for the actors; it's an intense and lengthy period. You have professional resources at your fingertips. When there was something not quite right, the director picked up on it, and you worked on it till you got it to where it's real for you. It's everything you could need or want, and it's a place you can be proud to invite whichever agent you are courting to come see you."
When asked how he chooses his productions, Schreiber replies, "We try to pick a three-play season of very different works, so actors studying here and the audience are exposed to three different kinds of writing. We don't want to get into a rut of always doing the same kind of play. Next season we're opening with Lanford Wilson's 'Balm in Gilead,' then after three years I finally got the rights to 'The Changing Room' by David Storey, so we're going to northern England. That requires a lot of dialects, and we've got a wonderful dialect coach here. That's another big plus here, with actors learning how to really do a dialect and not just putting it on the résumé. Then we'll close out with 'You Never Can Tell' by George Bernard Shaw, which I think is a delightful play devoid of Shaw's rants."
Another refreshing aspect of the company is that Schreiber is not afraid of large-cast plays. Both "Balm in Gilead" and "The Changing Room" call for more than 20 actors, while "You Never Can Tell" requires 17. "It gives a lot of actors a chance to work," he says.
T. Schreiber Studio, 151 W. 26th St., NYC; (212) 760-0209;
www.tschreiberstudio.com
RUNNERS-UP:
Metropolitan Playhouse, 220 E. Fourth St., NYC; (212) 995-8410;
www.metropolitanplayhouse.org
"Alex Roe runs a fine place to work and grow." — Chris Harcum
"Alex's sense of theater and production are wonderful." — Steven Lembark
"Everyone of their productions is terrific...and they find unknown pieces from the American canon, plays that truly have formed who we are in the theatre today." — Maria Deasy
"This terrific little East Village Theatre specializes in lovely old American plays that haven't been seen much since the early part of the 20th Century. Works by people like Boucicault, Belasco, DeMille (H.D., not Cecil B.), Sidney Howard, etc. They play the old melodramas absolutely straight, and bring out their wonderful power and charm." — Kathleen Huber
Inertia Productions,
www.inertiaproductions.org
"Visually stunning and emotionally moving new pieces of theater. Inertia expands the definition of theatrical performance." — Breanna Foister
Love Creek Productions, 21-44 45th Ave., Long Island City, Queens; (212) 714-9686;
www.lovecreek.org
"An unbelievable group to work with, creativity abounds!" — Kathryn Fumie
Partial Comfort Productions, 290 E. Second St., #GB, NYC; (212) 502-7985;
www.partialcomfort.org
"Great way for new people to get into the NYC scene and a great way for people to keep their feet on the boards." — Barbara Miluski
"Great place to work and learn from other talented professionals" — Joseph Chapman
"I have enjoyed every performance I have seen from PCP!" — Alyssa Renzi
"Gutsy, challenging, engrossing work." — William Brittelle
—David Sheward
Favorite Improv Theater: Upright Citizens Brigade Theatre
Since it opened in 1999, the Upright Citizens Brigade Theatre has been at the center of comedy in New York. Founded by the improv troupe of the same name—featuring Matt Besser, Amy Poehler, Ian Roberts, and Matt Walsh—the theater offers nightly improv, sketch, and variety shows, as well as a full schedule of classes in improv technique and comedy writing.
"We're proud to be the home of so many hilarious, talented comedians," UCB artistic director Anthony King says. "We're also continuing to grow and expand as more and more people discover and fall in love with long-form improv and sketch comedy. Every night of the week, you can see a great show at the UCB Theatre for $10 or less. And many of our shows are free."
Actor Josh Silverman appreciates the laugh-to-dollar ratio—and the booze. "Upright Citizens Brigade's low ticket prices and consistent high quality keep me coming back for more. In fact, I don't believe I've ever seen a bad show at UCB," he says. "Extra marks for the friendly, casual atmosphere. My favorite thing about it: Their tiny little bar serves Yuengling Lager."
Actor and comedian Cat Migliaccio says the training she's received at UCB has been invaluable: "As a comedian and actress, taking class at Upright Citizens Brigade helped me open and free myself up. I am no longer stuck in my head. Because of them, I am now more confident on stage. Plus everyone there is so supportive of one another, it creates a safe environment to play, grow, and learn all at the same time. Most of all, time flies by because you're having so much fun, just like when you were a kid. At UCB, it's okay to be a kid again."
Upright Citizens Brigade Theatre, 307 W. 26th St., NYC; (212) 366-9176;
newyork.ucbtheatre.com
RUNNERS-UP:
Peoples Improv Theater, 154 W. 29th St., NYC; (212) 563-7488;
www.thepit-nyc.com
"Absolutely hilarious, the best in the city" — Stephen Mazur
National Comedy Theatre, 347 W. 36th St., NYC; (212) 629-5202;
www.manhattancomedy.com
—Daniel Holloway
Favorite Theater Casting Directors: Telsey + Co.
Telsey + Co., 311 W. 43rd St., 10th fl.; NYC
"They're really great about releasing non-Equity and not wasting people's time." — Billy Hart
RUNNERS UP:
Alaine Aldaffer, c/o Playwrights Horizons, 416 W. 42nd St., NYC
"A wonderful woman who cares about actors." — Sue Kim
Stephanie Klapper, 39 W. 19th St., 12th fl., NYC
Jack Doulin, c/o New York Theatre Workshop, 83 W. 4th St., NYC