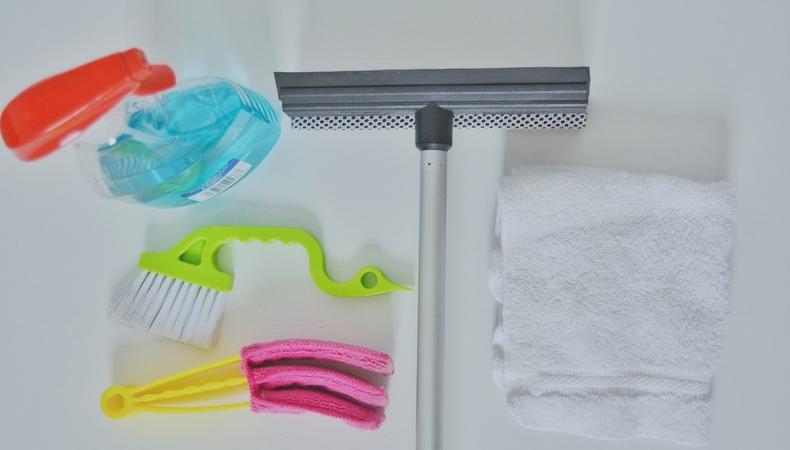 Bobby Brumand first moved to the city with dreams of becoming an actor… which can be pretty difficult while starving. In order to, as he puts it, "literally feed the starving artist" in himself, he turned to a friend with a small company designed to help support creatives, while giving them the flexibility to pursue their work.
Enter Broadway Maids. The company is just five years old, but growing at a rapid pace, and at least a little of that is due to new owner Bobby, who took over the business from his friend this summer.
"I was supposed to start off with training and doing schedules," Bobby says of his notable trajectory from 'maid' to owner. "That kind of transitioned into cleaning places. [When] my friend ended up moving and was looking to sell, I had worked there the longest. I know everyone on the staff, so the transition was natural."
While Bobby's day to day has changed with his new position (more oversight and hiring, less scrubbing and scheduling), he's still pursuing the arts - now it's his job to make sure others can do the same.
Flexibility?
As we've said again and again, the number one factor for any survival job is flexibility. If your desk job or new nanny gig pays well, that's great—but it might not be worth it if you're missing auditions ever week.
"Our work is always available," Bobby says. "The thing that drew me to the company was that we only hire artists. Regardless of what kind of medium you're in, they all know that I'm very loyal. If they need to go off and do something, they have a job when they come back."
So far, the cleaning company consists of actors, singers, dancers, musicians, and cruise line entertainers, just to name a few.
Income?
As the company grows, so does the workload—reliant, says Bobby, largely on word-of-mouth. This growing workload means long hours for Bobby, but it also means his team is rarely struggling to earn in their non-singing/dancing/writing/playing hours.
"What's happening now is that the clientele is rising, and I'm at the point where I need more employees," says Brumand. "I'm currently in the middle of hiring two new people, and I've got 150 more candidates to go through."
If you're looking to be candidate 151, by the way, you can start by emailing [email protected].
Networking/Experience?
Of course! Like all your creative friends, the Broadway Maids/actor net is wide—another reason why artists are drawn to the company from both the staff and clientele sides.
"Because the company consists of artists only, a lot of artists tend to hire us," says Bobby. "We have a lot of directors, producers, actors, and singers who like to hire us. There's a rapport between cleaners and clients. You get to meet all these people, and the next thing you know… you have a gig."
Why NY?
New York's once-grimy reputation might not be completely deserved, but when you're packing in a 500-square-foot apartment with six roommates, things are bound to get a little dirty. So, there's never a shortage of work for the Broadway Maids, especially when their busy base of clients is growing.
"It's a tiny island filled with lots of people," says Bobby. "I think it works in New York City, where everyone wants to get so much done. It's nice to know you can call a company and ask, 'Can you work around my schedule?' 99% of the time, the answer's yes."
Anything else?
That network of creatives is good for more than finding your next gig. Flexible schedules and loyal hirers also facilitate empathy or a sort of common ground where everyone is working toward their next great project. If you disappear for a while to make that project happen? Even better! We'll see you when you're famous.
"With us, because we're all artists, we have no problems covering for one another," says Bobby of his close-knit team. "You go do your thing, and I'll take your shift."
And while Bobby may have started as a cleaner, it certainly sounds as though he was meant to man the helm of this ship and give back what was given to him—at least for a little while.
"You make sure you're there for everybody who needs you."
Check out Backstage's New York City audition listings!