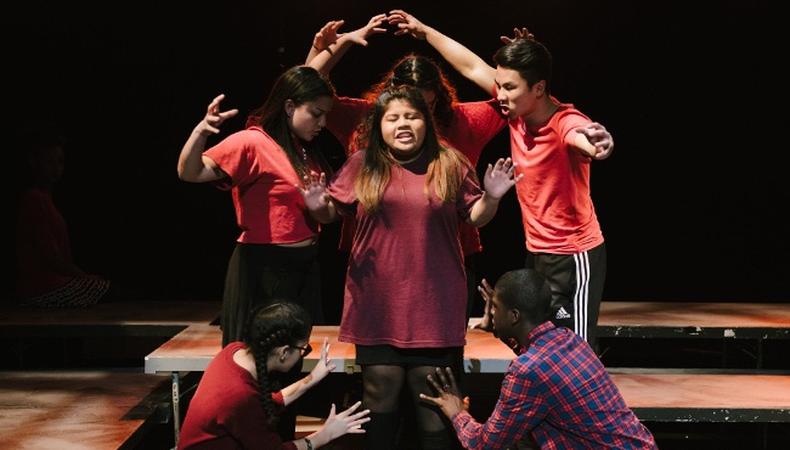 At the MCC Miscast Gala on March 30, which featured the likes of Jeremy Jordan, Uzo Aduba, Laura Benanti, and Sarah Paulson, there was one person whose name most audience members didn't recognize. When she spoke, however, she was cheered more loudly than anyone.
Dominique Fishback, graduate of the MCC Theater Youth Company, was presented with the Alumna Award that evening. Since her completion of the company's theater program, the young artist has written and performed her own one-woman show, "Subverted," appeared in "Blue Bloods" and "The Knick," and shared a stage with Amy Poehler and Amy Schumer. She's a standard of success within arm's reach for over 110 students from all five boroughs of New York City participating in MCC's Youth Company this year.
The yearlong program that sees students focus on voice, movement, monologues, and dialogue in the theater emphasizes playwriting and acting, enlisting professionals such as Lucy Thurber and actor Jen Shirley for the task.
"The big thing to emphasize is at MCC with the Youth Company, we're about helping them have an artistic life regardless of what career they choose," Carrie Azano, the company's director of education, told Backstage. "The big idea is that we believe that having access to arts makes you not just better artists but better people."
While entry is audition-based, instead of being expected to prepare monologues and perform for the "other side of the table," Youth Company leaders choose to have conversations with students, gauging their eagerness, positive attitudes, and ability to be team players in the ensemble-focused curriculum.
"We're not selecting students based on talent; it's about asking, 'Is this a community you'd thrive in?' " Azano said. "It's not about who's gonna do flips across the room or anything."
Year-end shows like UnCensored and the FreshPlay Festival give students an opportunity to show off what they've picked up during their time at MCC as writers and performers.
Yet the ethos of thriving through arts extends even after the year and its subsequent performances are complete. "We're continuously working on the after," Azano said about fostering relationships with their artists. Beyond the program, students can join the Youth Company Ambassadors, made up of alumni hired as communication fellows to be the liaisons between fellow alumni and the Company. They also volunteer at events like the Miscast Gala and "meet regularly with theater administrators, actors, directors, and designers, […acting] as advocates for MCC Theater and arts education," according to the MCC website.
"There are some students who view it as an afterschool program and they move on," Azano said. Others allow themselves to be further mentored by Thurber and outlets like the Middle Voice Theater Company, or utilize MCC's space for future performances. "Even if they're not working in the theater but want an artistic life, they're able to join us and share their work."
Inspired by this post? Check out our audition listings!