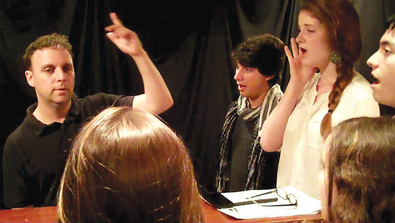 This post was updated on Sept. 29, 2017 by Casey Mink.
A Class Act NY
200 W. 60th St.
212-315-3010
www.aclassactny.com
Led by artistic director Jessica Rofé, A Class Act NY offers one-day weekend workshops and ongoing classes in musical theater, on-camera technique, and voiceover for students of all skill levels in Manhattan, Long Island, New Jersey, and Connecticut. Instructors include Broadway, TV, and film actors, casting directors, and talent agents. Industry showcases are by audition only. Private coaching and evaluation are also available.
Ages: 5–16 (separated by age groups)
Alumni: Bebe Wood ("The New Normal"), Charlie Plummer ("Boardwalk Empire"), Niles Fitch ("The Lion King"), Audrey Bennett and Ayla Schwartz (young Anna and young Elsa in Disney's "Frozen," coming to Broadway)
ACTeen
35 W. 45th St.
212-391-5915
www.acteen.com
Billing itself as "the nation's first film acting program for teens," Rita Litton's ACTeen—winner of multiple Backstage Readers' Choice Awards—offers full-time, part-time, after-school, and weekend theatrical and on-camera training programs for teens and young adults of all skill levels. Students may enroll in eight-week fall, winter, and spring programs; two- to four-week summer sessions; and a six-week Saturday-only summer program. An audition or interview is required for admission. Private coaching and college audition prep are available.
Ages: 13–20 (separated by age groups). The school's ACTeen Juniors division
is for children 10–12.
Alumni: Jordana Spiro ("The Mob Doctor," "My Boys"), Jamie Lynn Sigler ("The Sopranos"), Samm Levine ("Freaks and Geeks"), Danny Masterson ("That '70s Show"), Jon Seda (NBC's "Chicago Justice"), Daniella Alonso (TNT's "Animal Kingdom"), Jordana Brewster ("The Fast and the Furious"), Ariel Reid (Broadway's "Aladdin")
Professional Children's School
132 W. 60th St.
212-582-3116
www.pcs-nyc.org
Founded in 1914 to educate child stage actors, most of this private school's 200 students are working or aspiring performers who want help achieving their artistic goals while preparing for college or their careers. Auditions are not required for admission, but in-person meetings are requested.
Ages: Grades 6–12
Alumni: Giancarlo Esposito ("Breaking Bad"), Scarlett Johansson, Christopher Walken, Sarah Jessica Parker, Milton Berle, composer Marvin Hamlisch, Jane Krakowski ("Unbreakable Kimmy Schmidt"), Laura Bell Bundy ("Legally Blonde" on Broadway), Leighton Meester ("Gossip Girl")
Professional Performing Arts School
328 W. 48th St.
212-247-8652
http://www.edline.net/pages/ppas
Professional Performing Arts School was founded in 1990 to give aspiring performers the skills they need to pursue their professional careers. All middle school students study drama, singing, and dancing in addition to academic courses, while high school students can major in drama, vocal, dance, or musical theater. The New York public school partners with the Ailey School, Rosie's Theater Kids, and the Waterwell professional theater company for portions of its curriculum.
Ages: Grades 6–12
Alumni: Claire Danes ("Homeland"), Jesse Eisenberg ("The Social Network"), Sarah Hyland ("Modern Family"), recording artist Alicia Keys
Tada! Youth Theater
15 W. 28th St.
212-252-1619
www.tadatheater.com
TADA!'s musical theater classes run year-round, from weekly after-school classes during the school year to weeklong summer and holiday camps, and the company also travels to schools and community centers for in-school and after-school programs. The TADA! Resident Youth Ensemble provides tuition-free preprofessional theater training and performance opportunities for older kids and teens in TADA!'s original productions; membership is by audition only.
Ages: 2–14 (classes), 8–18 (ensemble)
Alumni: Kerry Washington ("Scandal," "Django Unchained"), Jordan Peele ("Key and Peele"), Josh Peck ("Red Dawn"), recording artist Azealia Banks
Young Actors at Strasberg
115 E. 15th St.
212-533-5500
youngactorstrasberg.com
The Lee Strasberg Theatre & Film Institute introduces kids and teens to the Method via its Young Actors programs. Twelve-week fall, winter, and spring sessions and an eight-week summer session are held on Saturdays and include a mix of core classes and electives, from the basics of acting and dance to stage combat and professional prep. The final day of each session is an open house for friends and family. Applicants must undergo a personal interview to be accepted.
Ages: 7–18 (separated by age groups)
Alumni: Chris Evans, Rosario Dawson, Matt Dillon, Angelina Jolie
Children's Acting Academy
131 W. 72nd St.
212-860-7101
http://childrensactingacademy.com
Named by CBS as one of the top five Broadway schools for kids in New York, the Children's Acting Academy has been honing the city's young talent for more than 40 years. Artistic director Mimi Stuart began acting professionally at the age of 15, going on to star in touring productions around the world as well as in shows Off-Broadway. She began teaching and directing at the Children's Acting Academy in 2000, and became the sole owner four years later. The school teaches Stanislavski, Strasberg, Chekov, and Meisner techniques, while emphasizing both relaxation and concentraiton.
Ages: 5–14 (separated by age groups)
Alumni: Oona Laurence (Broadway's original cast of "Matilda"), Sawyer Neihaus ("Wonderstruck" opposite Julianne Moore), Olivia Chun (Broadway's "School of Rock")
Play On! Studios
263 W. 86th St.
347-709-4149
https://www.playonstudios.com
Play On! Studios' mission is to make both music and theater contemporary and relevant for children. Founded by Lena Moy-Borgen and Elisa Winter, the program prides itself on working with the busy lives of kids and their parents via its commitment to increased theater accessibility for all. Class sizes are also kept intentionally small so as to ensure every student receives ample and individual attention. Private audition coaching is also available.
Ages: 4–18
Check out our audition listings for kids, which you can sort by location!