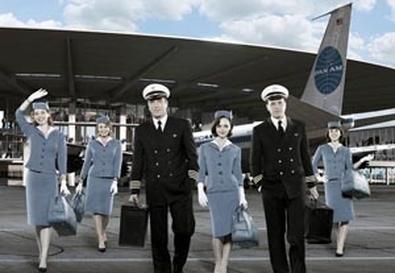 When Pan American, the U.S. carrier that ruled the airways for much of the 20th century, went belly up in 1991, its famous flight-attendant uniforms disappeared with it. Those outfits made a comeback last week on several actors who stood alongside Mayor Michael R. Bloomberg of New York City at a press conference in Brooklyn. Bloomberg appeared at Steiner Studios to tout the record number of prime-time television shows, 23, currently being shot in the city—among them "Pan Am," the new ABC drama that focuses on the flight crews who worked for the airline during its '60s golden age. The show is one of eight new series shot in New York.
"Thousands of New Yorkers are hard at work building sets, making costumes, and scouting locations for the record 23 new and returning TV shows that film here," Bloomberg told reporters. "A show like 'Pan Am' employs 400 people behind the scenes and generates activity for our local economy at places like lumberyards, fabric stores, and coffee shops."
As Bloomberg spoke, nearby construction crews continued work on an expansion of Steiner's Brooklyn Navy Yard complex. The project will provide even more infrastructure for an industry that the mayor's office says contributes $5 billion to the local economy. At a time when other regions are second-guessing attempts to lure the entertainment industry, New York is doubling down—and local actors are reaping the rewards.
"New York City is home to an amazing community of talented actors," Katherine Oliver, commissioner of the Mayor's Office of Media and Entertainment, said days after the press conference. "With the eight new television series now based in the city as well as the rest of the returning shows, there are numerous opportunities for actors to work in regular and guest-starring roles."
Credit Where Due
Like many with a stake in the industry, Holter Graham, president of the New York local of the American Federation of Television and Radio Artists, gives much of the credit for New York's production boom to tax incentives. Last year, the state Legislature passed a five-year, $2.1 billion extension of the state's film and television production tax-incentive program—representing a 400 percent increase over the program's previous annual budget. The juiced-up state program came in addition to an already robust city tax-credit program, and it arrived just as other states, such as Michigan and New Mexico, were beginning to question the efficacy of their own production tax credits.
"Some of those not-as-big, not-as-mature markets simply didn't have the foundation and infrastructure in their systems to make the most of their incentive programs when they first popped up on the scene a few years ago," Graham said. He credited Ed Fry, chair of AFTRA's New York and East Coast legislative committees, and Nancy Fox, the Screen Actors Guild's legislative director, for their lobbying efforts to convince Albany to invest in incentives. SAG New York division president Mike Hodge also doled out praise for the lobbying effort.
"The value of the state and city tax incentives is very clear when we have such an aggressive growth of television in New York," Hodge said. "Our legislative committee, headed by Richard Masur, was told that if we could get five years of incentives, we could grow TV. That's what we did, $420 million for each of five years. That accounts for thousands and thousands of jobs in front of and behind the cameras. It's exciting."
For television producers, tax incentives have become a key factor in deciding where a new show will be shot—and whether an existing show will relocate. When ABC's "Ugly Betty" moved from California to New York in 2008 to take advantage of the Empire State's tax credits, the move prompted California's Legislature to pass a credit program of its own. That program was then cited as the driving factor earlier this year when another ABC show, "Body of Proof," relocated from Rhode Island to Southern California. At the time, Rhode Island's governor had just begun making noise about possibly dismantling his state's incentive program.
Life After Soaps
For actors, New York's investment in production is best measured by the fruit that it bears. New York hosted 17 pilot shoots last season, up from five the previous season. But Los Angeles is still king. The past season saw 87 pilots shot in Los Angeles, 12 more than in 2009-10.
"It went really, really well," Graham said of New York's pilot season. "However, pilot season is still really L.A.-based."
That said, while L.A. saw its total number of pilots increase, its slice of the pie actually shrank. The region hosted 51 percent of principal pilot shoots last season, down from 58 percent, proving that so-called runaway production continues to plague the Southland. Californians worried about the health of their heritage industry now have their eyes trained on their state Senate, which this week will consider a bill to extend the tax-incentive program spawned by the "Ugly Betty" move.
In the meantime, New York actors reap the rewards of their tax dollars—and their neighbors' tax dollars—at work. Graham described a recent visit he made to Brooklyn's Greenpoint neighborhood, where two prime-time shows were shooting within a few blocks of each other. In the last two years, as broadcast networks have abandoned the daytime drama format, New York has seen the number of soap operas shot in or near the city plummet from four to none. (The city's last soap, "One Life to Live," is scheduled to leave the air this month.) Graham said that what he saw in Greenpoint made him feel better about the prospect of a post–daytime drama world.
"It had that sense that I have had both working on and visiting daytime shows five, six years earlier, where it was a big holding area, a lot of background performers, a bunch of new excited day players, and some principals," he said. "It had a feel of 'I'm in a town where I can do this for a living. I may not be able to buy a second or third home, but I'm going to feed my family and I'm going to hopefully hit my health-care numbers.'"