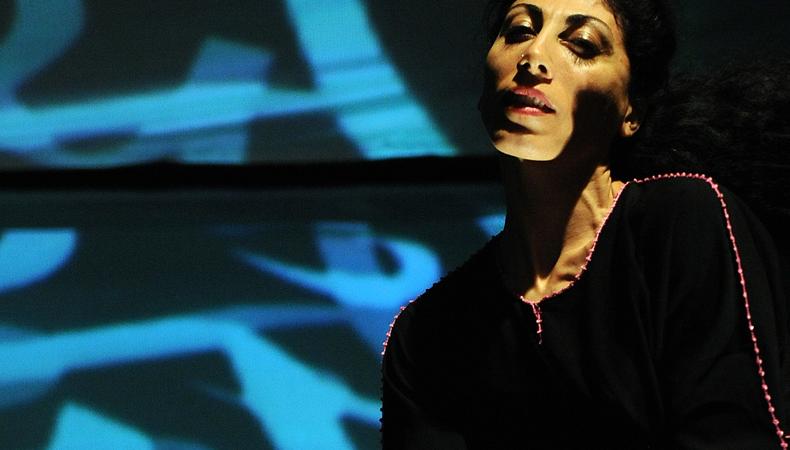 A slow, heavy-handed movement exploration of sensuality, torture, rape, identity, oppression, and the power of the written word, "Oasis: Everything You Ever Wanted to Know About the Middle East but Were Afraid to Dance" is lusciously danced yet difficult to embrace.
Conceived, choreographed, and directed by Nejla Y. Yatkin, with attractive video design by Patrick Lovejoy and charming animation by Iga Puchalska and Julien Smasal, the work offers a variety of message-laden episodes, including a sensual pas de deux, a disturbing waterboarding scene, a satiric fashion show of chic garb for Muslim women, and a delicious belly dance, admirably performed by Shay Bares as a male sex slave.
Despite its provocative subject matter and excellent eight-member cast, the choreographically repetitious show is emotionally unaffecting. Each sequence is launched by a strikingly different design concept and an expressive Graham-based movement theme that is then replayed to lulling rather than stimulating effect.
Presented by NY2Dance as part of the New York International Fringe Festival at Theatre 80, 80 St. Marks Place, NYC. Aug. 18–26. Remaining performances: Sun., Aug. 19, 3:45 p.m.; Wed., Aug. 22, 3 p.m.; Thu., Aug. 23, 2 p.m.; Sun., Aug. 26, 1 p.m. (866) 468-7619 or www.fringenyc.org.
Critic's score: C-