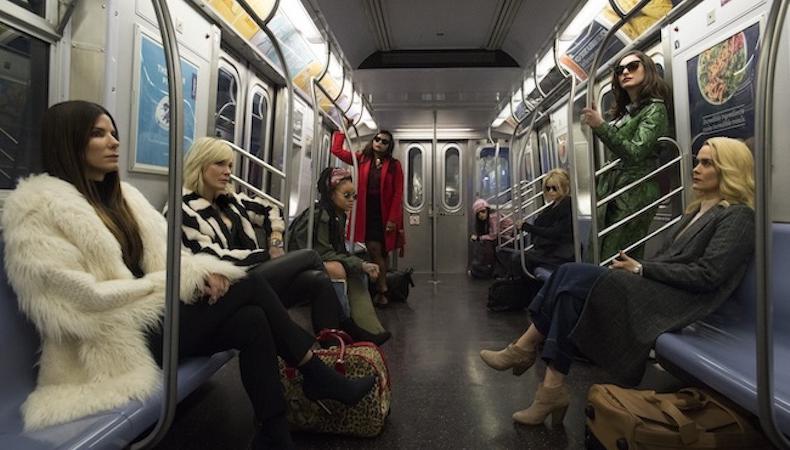 At only 29 years old, Olivia Milch has co-penned one of the most anticipated releases of the year with "Ocean's 8." The all-female fourth installment of the otherwise male-dominated "Ocean's" franchise is written by Milch and her longtime friend and mentor Gary Ross ("The Hunger Games"), who also directs. "We really wanted to see a group of excellent, badass women doing their jobs well on a team with other women who are the best in their field," says Milch. "And they just happen to be criminals."
Milch is also fresh off the release of her directorial feature film debut, "Dude," which premiered on Netflix April 20. A coming-of-age comedy about a clique of female friends navigating the last two weeks of high school, "Dude" first came to Milch six years ago out of frustration with how women are traditionally represented onscreen. But she admits the last few years have seen some positive change in that department.
"We're in an exciting period right now. We're getting to see a lot more female voices lending the truth and accurately reflecting the experience of being a woman in this world."
One scene in "Dude" in particular highlights the need for female voices in filmmaking. Lucy Hale's character, Lily, experiences a moment of sexual assault that exists wholly in a gray area of consent, a place where Milch says many of these encounters happen for young women. "It was really important for me to show a sex scene with affirmative verbal consent and juxtapose that with a scene where there is a clear lack of that," she says. "The more that we understand these experiences and they're brought to light, the more we understand who we are. Right now is a moment of reckoning." To her fellow female filmmakers, Milch advises they have the confidence to know that the story they're telling is powerful enough and important enough.
READ: You Wrote a Script! Now What?
Female camaraderie was crucial while writing "Ocean's 8," too. "Both of us felt it was really important to feel the comfort and ease these women have together as a team," Milch says. "The thing that's really exciting to me is to see eight women on a team together onscreen, which is something we've never really seen before." The writing process for Milch and Ross was very collaborative; they wrote side by side at the computer. "Watching Gary think about story and getting to break story and write with him is one of the great experiences of my life," she says.
As a co-producer on the film, that collaboration continued on set when she sat with Ross every day at the monitor. "He was so generous with his knowledge," she says. "He knew how important it was to have a young female voice on set and present." And as an early-career filmmaker, it was comforting for Milch to see that a veteran like Ross still admits to figuring things out. "It's such a gift to be able to be comfortable, open, and honest in terms of asking for help. It's about surrounding yourself with people who are knowledgeable and want to support that journey and tell that story with you."
Though they're very different films, Milch identifies a through-line between "Dude" and "Ocean's 8" in how she engaged with the actors. "I'm a really big fan of research," she says. For example, Mindy Kaling took lessons with jewelers for her role, and Awkwafina spent time with card dealers. "It's the familiarity you have with the life of the person that you're living, especially if that person, like in 'Ocean's,' has a very specific set of skills. I'm a big nerd," Milch says, laughing. "I like to learn."
Want to act on the big screen? Check out Backstage's film audition listings!