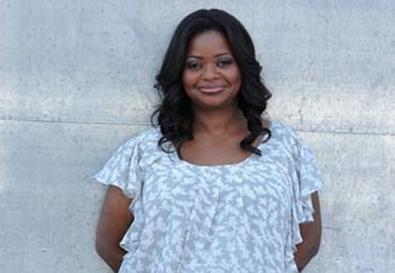 The first time I saw Octavia Spencer was in 2003 in Los Angeles, playing the best friend of a woman trapped in an abusive relationship in Del Shores' play "The Trials and Tribulations of a Trailer Trash Housewife." With her big, expressive eyes and brilliant comic timing, she was that unique combination: an actor who appears well-trained and perfectly natural. And most audiences would have been surprised to find out that this accomplished performance was not the work of a stage veteran. It was her first, and to this date only, play.
After that, it seemed Spencer was everywhere, making a maximum impression with a minimal amount of screen time. There was her role as an outspoken bystander in "S.W.A.T." and her turn as a basketball player's mother in "Coach Carter," and with only one line in the raucous comedy "Bad Santa," she managed to steal the entire film. Spencer quickly became a favorite at the Back Stage offices. In 2005, in her first interview ever, she was profiled in our Actor's Actor column under the headline "The Quip Queen." In 2010, she signed on to participate in our Take Five feature, in which we follow five actors over the course of a year. Spencer voiced her adventures, speaking as a frank, hard-working actor grateful for the opportunities she had been given.
Those qualities have not changed, but today Spencer is no longer Hollywood's best-kept secret, thanks to her sublime turn in "The Help," the all-star film adaptation of Kathryn Stockett's bestseller about black maids in 1960s Mississippi. In her largest screen role to date, Spencer stars, alongside Viola Davis and Emma Stone, as Minny Jackson, the forthright and lively caretaker whose mouth often gets her into trouble with her employers. The role has already earned her rave reviews and early Oscar buzz and has changed her life in ways she never dreamed possible. Case in point: She and Stone recently attended a screening at the White House on the invitation of first lady Michelle Obama.
Breaking In
One week before "The Help" opens in theaters, Spencer calls Back Stage from the midst of a 14-city tour that has taken her all over the United States in five weeks. Ask her how she is and she gives the kind of frank reply you would expect from one of her characters. "I'm tired as hell! How are you?" she responds, laughing. "I'm on a plane every other day, if not every day, and we're doing nonstop screenings and Q&As. It's educational, tiring, and one of the most exhilarating things I've ever had the opportunity to participate in."
---
---
Spencer admits she never expected to live the life of an actor. Though she had always harbored a secret desire to perform, she grew up in a "very practical" family, her mother encouraging her toward a career with more stability than acting usually provides. "But sometimes, when your heart desires something enough, the universe desires it for you as well," Spencer says. "And it put me on the path."
Her path was working in the casting department of films shot in and near her native Alabama, such as "The Grass Harp" and "Tom and Huck." And while on set, Spencer was often asked if she wanted to read for films. "I had, like, six directors ask me to audition for things," she says. "But I was very reluctant because I wasn't trained as an actor and I didn't think I was any good. I did hope that someday I could get into producing, but I kept the acting desires sort of hidden."
Things changed in 1995 when she worked on the drama "A Time to Kill." Spencer was a huge fan not only of stars Sandra Bullock and Samuel L. Jackson, but also of director Joel Schumacher, who had helmed "Car Wash." Spencer felt compelled to ask him for an audition. "I wanted to play the woman who starts the riot," she recalls. "But Joel told me I was too sweet-looking and should read for the part of Sandy's nurse instead. So I did, and somehow I got it."
Spencer credits Bullock with making her first time on screen so easy and giving her the confidence to pursue acting as a career. Bullock, however, refuses to take too much credit. "Octavia is much too generous with that statement," Bullock says. "She would have entered into this business of acting whether I was there or not. Her energy and personality are so infectious that any room she walks into, everyone wants to be her friend, or just hang out with her and be in her space. Now, that doesn't always mean someone like that has a talent for the camera, but in this case it does."
Spencer moved to Los Angeles on Jan. 1, 1996. "I knew I wanted to drive into the city and this new life on January 1st," she says. And Bullock gave her another break by casting her in the short she was directing, "Making Sandwiches." Though Spencer originally signed on to help with casting, she soon found herself sharing scenes with Bullock and Matthew McConaughey. Recalls Bullock, "She wasn't meant to have more than a few lines in the short film, but as everyone will soon find out, you don't just give Octavia Spencer 'a few lines.' The minute she opens her mouth, she makes a meal out of every word. And once we saw what she could do, we kept on giving her more to say."
Spencer says her work in that film started her career: "I was sort of naïve and didn't realize how huge it was to have tape of myself with these two giant stars. But that film got me an agent, and things took off from there." In addition, the director of photography on the film, Mike Ozier, recommended her for a role in the Disney comedy "The Sixth Man," which she booked.
Up to this point, Spencer had never studied acting formally. "I didn't think I needed to," she admits, "because Joel and Sandra had given me these great parts and then I was cast in this Disney film." But then she was given a copy of "The Sixth Man" before it came out and planned a big dinner party with her good friend Tate Taylor. "Tate made a big dinner and we all sat down to watch the movie," she recalls. "And my first scene came up—and I wasn't in it. Then my next scene came, and I wasn't in it. By the time my fourth scene came up, I realized I had been completely cut from the movie. The very next day, I signed up for acting class." For three years, Spencer studied intensely with Anita Jesse, often four days a week. She also studied with Richard Brander and still works occasionally with a coach: For "The Help," she worked closely with Jamal McNeil, who also coached Taraji P. Henson on "Hustle and Flow" and "The Curious Case of Benjamin Button."
Years later, Spencer would work with Ozier on the short film "Marilyn Hotchkiss' Ballroom Dancing and Charm School" and he would tell her that the scenes being deleted had nothing to do with her acting, only with her storyline not fitting the final cut. "In a way, I'm glad I didn't know that then," Spencer says, "because I don't think I would have worked so hard with an acting coach and never progressed or improved. So I actually owe the director a lot for cutting me out of that movie."
Before long, Spencer was popping up in films as varied as "Win a Date With Tad Hamilton," "Seven Pounds," and "The Soloist." She counted among her fans and friends esteemed actors such as Allison Janney, whom she met through Taylor. "When Tate first introduced us, I never wanted to not be around her, because she made me laugh so hard," Janney recalls. "She's such a funny woman and has the most amazing energy, I knew from the start she was the real deal." In April 2009, Entertainment Weekly took notice, naming Spencer one of the "25 Funniest Actresses in Hollywood."

'Help' From Friends
Spencer's journey to "The Help" is worthy of a film of its own, a story of friendship and loyalty uncommon in the fickle world of Hollywood. Taylor—the friend who cooked the big dinner for her in honor of "The Sixth Man"—made the introduction that would eventually form the character of Minny Jackson. An actor who has appeared in such films as "Winter's Bone," Taylor cast his good friend Spencer in his first film as writer-director, the 2003 short "Chicken Party." The two were in New Orleans, working on the sound mix for the film, when Taylor's childhood friend Stockett came down to visit for the day. Taylor took his two friends on a walking tour of New Orleans, but Spencer says it was a miserable experience.
Viola Davis and Octavia Spencer in 'The Help.' (Courtesy of DreamWorks)
"It was hot, I was on a diet, starving and grumpy, and we start on this tour," she recalls. "And the complaints began from me. And from there, I think Minny was born." In retrospect, it ended up being a very good day for Spencer. "What's funny is, it was the worst possible day for Kathryn to meet me, but it turned out to be one of the best occasions of my life, because I think she used these characteristics to help build the character of Minny."
Spencer is quick to point out that Minny is not based on her—"That would be a disservice to Kathryn, who built this amazing character"—but Spencer and Minny have things in common. "I say it jokingly, but it's true: Minny is short and round; I am short and round. Minny speaks her mind all the time; I don't have a problem speaking my mind." While Spencer was shooting Taylor's feature film debut, "Pretty Ugly People," Stockett told her she had finished writing her book and it was about to be published. When Spencer read "The Help," she was shocked to find the character of Minny's sister had been named Octavia. "I wept like a baby," she admits. "I was like, 'Oh my God, my name's in a book!' " She eventually read the chapters told from Minny's point of view in the book's audio version.
---
---
Before "The Help" was even in print—it was rejected by more than 40 literary agents before Penguin Books published it in 2009—Taylor obtained the film rights and wrote a screenplay adaptation. When the book became a phenomenon, he suddenly found himself working on his first big studio feature. Because of this, one would think there might be pressure to cast a bigger name in the plum role of Minny. But according to Taylor, it only took an audition from Spencer to convince everyone. "Sure, there were bigger people coming after the role, absolutely," he says, "but I always said, 'It's Octavia.' What's so great about DreamWorks is that it's run by filmmakers who believe that if it's not broke, don't fix it. And when she came in, they were all like, 'She is Minny. Done.' "
Spencer totally understands why she couldn't just be handed the role. "When you think about it, it's an unknown director with a hot property who wants to cast an unknown in one of the leads," she says. "Mo'Nique has just won an Oscar, Jennifer Hudson has just won an Oscar, and you have amazing actresses out there like Queen Latifah—why would they cast me? They were very gracious to allow me to come in and audition, and I was never made to feel like it wasn't an easy decision for them."
If the casting was a gamble, it has paid off. Spencer delivers a powerful, beautiful performance as Minny. Though it's no surprise to see her master the comedy in the script—in one scene, she earns laughs simply by sizing up a friend and murmuring, "Mmm-hmm"—her dramatic work is somewhat of a revelation. Minny struggles to raise several children while dealing with an abusive husband and striving to exist in a time and place that doesn't value women or people of color. "It was definitely the meatiest part I've ever had to play," Spencer admits. "I've never really had to prepare a character so intensely and chart this emotional journey. It's a whole new process, one that I want to do every time, even if the character is only in two scenes."
The difficulty of the material was often balanced by the pure joy Spencer felt in making the film, working with her good friends Taylor, Stockett, and Janney, who steals scenes of her own in "The Help" as Stone's marriage-minded mother. Janney couldn't be more pleased for her friend's good fortune. "She used to come over when I was getting ready to go to some awards show, and she would just enjoy every moment of it for me," Janney says. "And it's just so nice to have this happening for her now. She's so deserving of this attention and such a wonderful, funny, loving woman. She's so loved by all of her friends, and now I think everyone else is going to quickly fall in love with her. She's undeniable, and it's her time to shine."
Coming Attractions
Of course, Spencer remains humble when asked if she's prepared for her life to change. "People say that, but honestly, people have recognized me for a while now; they just don't know where from," she says. "I think the only difference now is they'll say, 'Oh, you're that lady from "The Help." ' So I don't think things will change that much." And though the Oscar buzz is growing deafening, she chooses to concentrate on all the rewards the experience has already brought. "I got to work on a great film with great friends, where I made some great new friends," she says. "I'm over the moon."
---
---
Spencer recently shot the film adaptation of "The Trials and Tribulations of a Trailer Trash Housewife," with the play's entire original cast, and is currently meeting with "some amazing writers and producers" to develop material for herself for film and television. "It looks like I'm finally going to be a producer," she says with a laugh. "It's a very exciting time."
Bullock is in no way surprised by Spencer's success. "When you meet her, you know she is destined to entertain," she says. "I know not all people with tremendous talent are given the opportunities that they so deserve, but in this case a lifelong friendship with Tate Taylor brought together two very talented people who deserve success and who are grateful for it. This opportunity will not go wasted or be abused by one fabulous Octavia Spencer."

Outtakes
- Other films include "Being John Malkovich," "Big Momma's House," and "Dinner for Schmucks"
- Notable TV work includes a regular gig on the series "Halfway Home" and a memorable appearance as an INS agent on "Ugly Betty"
- Says she will probably not do another play because of her "intense stage fright." Though "Trailer Trash" was a great experience, "I'm a control freak, and there's a certain lack of control on stage. I enjoy the experience of 'Cut! Let's do it again!' "