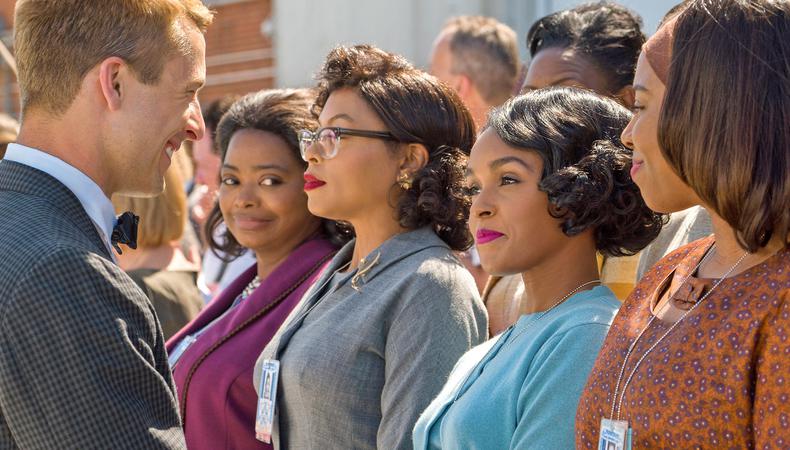 "I hate auditioning!" Octavia Spencer says during a mid-November interview in Lower Manhattan. "I'm so glad I don't have to do it anymore."
"I'm ready to get to that point," Janelle Monáe, sitting to her left, adds. "They still are very nerve-racking." But as advice to those who are also on the audition grind, Monáe says that performers of all kinds should follow her motto: "Choose freedom over fear." It's what got her through everything from performing for President Barack Obama to nailing it in the audition room for "Hidden Figures." "Confidence can get you into a lot of doors," she says.
For Spencer, that self-assured approach translates to owning the space and time you're given with the casting director. At one point, that meant assisting in a casting office as a young actor for behind-the-scenes insight—"It just demystifies everything."
Spencer and Monáe are supporting actor awards contenders this season for the '60s-set "Hidden Figures" from 20th Century Fox. Spencer, for one, received a Golden Globe nomination on Dec. 12 for best performance by an actress in a supporting role in a motion picture. And while the film marks only Monáe's second live-action feature, between this and "Moonlight," acting work is sure to come to the six-time Grammy-nominated musician soon enough.
READ: "1 Secret to Casting First-Time Actors in 'Moonlight' "
The actors play revolutionary mathematicians Dorothy Vaughan (Spencer) and Mary Jackson (Monáe), two-thirds of the central trio in writer-director Theodore Melfi's true-story feature. They're joined onscreen by Taraji P. Henson as Katherine Johnson. Audiences may not know it, but these three African-American women had essential roles in the Space Race, specifically in calculating crucial mathematical data for NASA's earliest missions with Project Mercury and Apollo 11. Between this anticipated holiday season release and the recent Margot Lee Shetterly book of the same name, these unsung heroes and their colleagues are finally getting their story told. One must wonder, though: What took so long?
"I was upset," Monáe says. "I had no clue, growing up, about [these women]. Then it became a personal responsibility for me to become a part of this project and to make sure that no other young girl or human being went through life not knowing about these true American heroes."
Spencer agrees that she wanted to play Dorothy because her story was untold, particularly considering its embodiment of a strong, brilliant black woman during a time that usually inspires subordinate portrayals.
"We know there are such things as historical black colleges, so of course there were a lot of educated African-Americans during that time period," she says. "But what we see in film, it's usually maids [or] slaves. I wanted to be a part of the history of these women, because this is now part of their legacy."
Because the project's "hidden figures" were so sparsely documented prior to Melfi's film and its source book, it was difficult for its actors to properly study up. "You scour the internet, you spend the hours looking, and you find maybe a thumbnail picture or the constant reference 'See NASA archives,' " Spencer recalls. So they were provided the opening chapters of Shetterly's nonfiction account, and they also met one-on-one with the author's father, who worked with the real-life women and knew them well.
Thankfully, Spencer and Monáe are used to putting in the legwork to see their projects through. Reflecting on preparation tips for going into any role, Spencer takes a page from her long-spanning career, one that's seen steady character work lead to Oscar gold with "The Help" and unexpected series cancellations with "Red Band Society."
"Let me tell you something: Everything is ephemeral and you ride high and sometimes bottom out, but what you have to be is consistent," she says. "It's about approaching the work fully committed, always. Never, ever look to the prize. That's something that you can't control. What you can control is the work ethic and treating the material with respect. It took me 15 years to become an overnight success, so if you're only at the three-year mark, honey, you've got some time. It's not a sprint. It's a marathon, so buy some shoes."
Looking for remote work? Backstage has got you covered! Click here for auditions you can do from home!