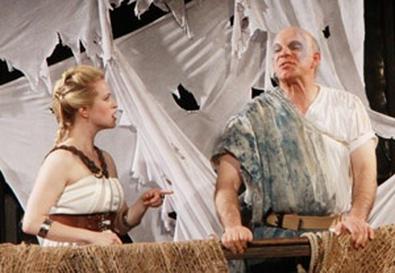 Landing several cuts above the disastrous "Home Sweet Homer" and many more below the wonderful "The Golden Apple," the latest attempt to musicalize Homer's "The Odyssey" is the sincere but scattered "Odyssey: The Epic Musical." Billed as "a developmental showcase," the two-and-a-half-hour tuner features a few Equity actors and many more nonunion ones.
Where they're all going, except home to Ithaca, is hard to determine. Is this a parody, as some sequences suggest? So many strands are at work here. For instance, Penelope's mother, Anticleia (an elegant Colleen Zenk), dressed like a society hostess, ends one scene with "Enjoy your hors d'oeuvres."
Or is it an attempt to find something magical in Homer's masterpiece, as in the Siren sequence, which features two aerialists floating in fabric hung from the ceiling? With a richly variegated score by Dimitri Landrain, serviceable or less lyrics by Matt Britten and Daniel Sefik, and a faithful, sometimes jokey, sometimes resourceful book by Britten, who also directs, the result is a show that might do well in colleges.
Presented are the usual suspects: the Lotus Eaters, Circe, Cyclops, Calypso, the Sirens, plus scheming gods whom book writer Britten gives distinct personalities. Zeus is bewildered, Poseidon is vengeful and frustrated, Athena is a valley girl with the hots for Odysseus, and wing-footed messenger Hermes is flighty in more ways than one. The heroic Odysseus, in a vigorous performance by Josh A. Davis, seeks independence ("Free to be your own man/Free to have your own plan"), but that path needs a spine.
Then there's the conflict between mortals and immortals, as well as the rivalry between Poseidon and Athena. That this aspect threatens to take over may be chalked up to the performances. Eddie Korbich is a rich-voiced, amusing Poseidon, who has the evening's best line, the meta-theatrical "Who am I talking to? I really need a sidekick." Emma Zaks channels Reese Witherspoon as the ever-cheerful Athena, while Tramaine Montell Ford sends up gay clichés as the busy Hermes.
The score has its high points, from the lively "A Change of Heart" to the lovely "The Direction of Your Dreams," the yearning "Behind Every Great Man" (intensively sung by Janine DiVita), "the cheerful "Nobody," and the hearty "Here's to Us." Some lyrics are less than felicitous ("It's becoming very clear/There is trouble growing near/And we have everything to fear"). The five-piece band is a big help, as is Sefik's music direction, especially his work with the chorus.
Technically ambitious, this "Odyssey" is still in its infancy, though there are sparkles amid the silliness. Homer's work is a sprawling adventure, covering the 10-year voyage from Troy to Ithaca and the waiting arms of Odysseus' loyal wife, Penelope, and eager son, Telemachus. To tame it requires a frame, a direction, a point of view, wit, and excitement, all of which are hinted at but not yet developed.
Presented by Odyssey Theatrical and Peter Dagger at the American Theatre of Actors, 314 W. 54th St., NYC. Oct. 23–30. Tue.–Sat., 8 p.m.; Sat. and Sun., 2 p.m. www.odysseythemusical.com. Casting by Daryl Eisenberg Casting.