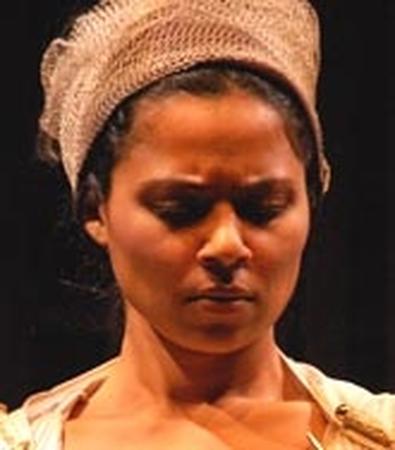 Can a seminal legend of Western literature be delivered in three hours by a cast of eight performers? Yes, we mean the whole Oedipus family drama — all three of Sophocles' tragedies in one evening: Oedipus the King, Oedipus at Colonus, and Antigone. This brave, ambitious attempt comes from the Pearl Theatre Company, directed by Shepard Sobel, in a new set of translations and adaptations by Peter Constantine. The translations, with not one lingual lapse into the postmodern, are a model of clarity in economic storytelling; the production's thrust leans more toward delivering a tale clearly told than enflamed dramatic conflict. While the intentions of this well-spoken production are commendable, each play suffers from its imposed brevity, for in the compression of each, much of an essential ingredient — passion — seems to have been squeezed out. The emphasis here is on sense rather than sensation, particularly the sensation of emotional release. The overall result is clear, clean, and cool, the heat generated is intellectual, and with these stories abounding in legendary psychological conundrums, there's plenty for the head if not the heart.
In Oedipus the King we have the best-known story: Oedipus (Jay Stratton) has unknowingly killed his father and married his mother, Jocasta (Jolly Abraham). The cleansing of this stain of patricide and incest will reverberate through all three plays. Oedipus' pursuit of truth becomes his downfall as Sophocles spins a classic example of dramatic irony. Stratton's Oedipus is boyishly upstanding, wanting only in the anguish of his blinding scene. Notable here is the weighted Tiresias of Dominic Cuskern, wearing Devon Painter's most inventive costume of the production.
The lesser-known Oedipus at Colonus gives us the aged, blinded Oedipus (TJ Edwards) in the company of his daughters, Antigone (Abraham) and Ismene (Susan Heyward), seeking a place to die. Offstage, Oedipus' two sons, Polynices and Eteocles, fight to the death for the throne of Thebes. In this segment Edwards gives the production's most memorable performance, providing an emotional gravitas often missing elsewhere.
The finale of Antigone places the young heroine center stage defying the will of Creon (John Livingston Rolle), her tyrannical uncle. She seeks to give proper burial to her dead brother, Polynices, knowing it will ensure her own death. While Abraham, an attractive performer, makes a dignified and compelling Antigone, Constantine's treatment of this well-known feminist legend is surprisingly muted (compare Anouilh's 1944 elegant but impassioned dramatic version of this essay on tyranny).
At the performance attended, an enthusiastic male audience member directly behind kept murmuring agreements at the many classic truths stated on stage. It seems that Sophocles still has much helpful advice for mere mortals in the 21st century.
Presented by and at the Pearl Theatre Company, 80 St. Marks Place, NYC. Oct. 27-Nov. 16. Tue., 7 p.m.; Thu.-Sat., 8 p.m.; Wed., Sat., and Sun., 2 p.m. (212) 598-9802 or www.pearltheatre.org.