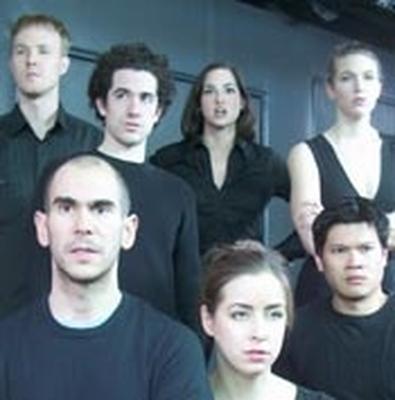 It's fun and exhilarating, the way a dissonant yet melodic chamber-orchestra piece for strings played at breakneck speed is exhilarating, or the way Balanchine's abstract and yet somehow still whimsical dances are exhilarating. It's important to get that out of the way, because the description of Austrian playwright Peter Handke's 42-year-old classic Offending the Audience sounds deadly and pretentious. Actors face the audience and intone, "You will see no play. There will be no playing here tonight. You will see a spectacle without pictures."
But thanks to Jim Simpson's rhythmic and crackerjack direction and a 22-strong cast of Bats (the Flea's resident company), who morph between gleeful, sarcastic, menacing, and meditative in a flash, Offending the Audience may be the liveliest downtown piece you'll see this year. And particularly in this fresh-faced, energetic incarnation, it completely succeeds in prompting you to consider what we mean by theatre.
Sure, it has no characters, apart from "them," the players, and "us," the audience, and it has no plot, apart from prompting the question "What incisive bit of theatre commentary will they come out with next?" Yet this hourlong piece completely holds your attention. The more it insists it isn't a play, the more palpably it asserts itself as funny, engaging theatre, or "the-ah-ter," as the chorus chants the word. Handke has some profound points to make about time and the sharing of the experience, but he isn't above a little low comedy as the cast evaluates the audience using all the clichés critics use for actors: "Your debut is unconvincing. You are not addressing the human quality in us. You leave us cold."
At the tiny downstairs space at the Flea, the company is often quite literally in your face, with house lights up, and this works too. This is absurdism that hasn't lost its point, because its point was more human than political — and it really is a lot of fun.
Presented by and at the Flea Theater,
41 White St., NYC.
Jan. 31-Feb. 23. Thu.-Sat., 9 p.m.
(212) 352-3101 or (866) 811-4111 or www.theatermania.com or www.theflea.org.