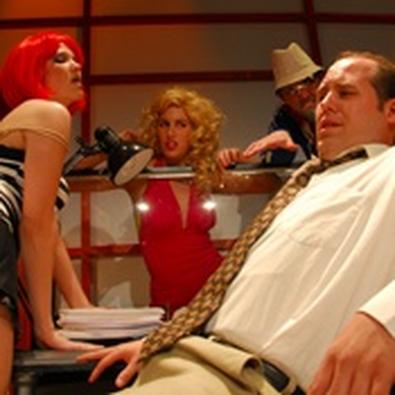 Screwball comedy battles edgy satire and lighthearted romantic drama for dominance in the West Coast premiere of Andy Chmelko's 2005 one-act about office life. The result is a somewhat messy mix of tone that director Scott Werve can't solve, despite assistance from an energetic cast.
Many of the sketchlike scenes, which vary in quality from somewhat funny to flat, stand apart from the loose story line that investigates the cubicle-dominated population at Empie Advertising. There's Martin (Stephen Eshenbaugh), whose boss, Marisa (Amanda Randall), punishes him for screwing up by sending one of the company's enforcers to give Martin "the finger," nonstop, all day. Marisa has her own battle with Lester (Gregory G. Giles), another executive, when each refuses to move out of the other's way -- for days. And in a sharp switch from the rest of the play, two prisoners (Tracy Lynn Farber and Robert Spuhler) are trapped in an unknown realm behind the file cabinets, awaiting execution by someone known as Straight Arrow (Hunter Davis).
The wacky moments are hit-and-miss, though the game cast is not at fault. Eshenbaugh earns laughs beyond the script's capabilities by throwing himself into the part of Martin, the put-upon peon. His frenetic movements and harried facial expressions deftly border on the absurd. Also intriguing is Randall as the junk-food-addict boss, who appropriately injects most of her lines with enough venom to wound her underlings. But Werve's direction, though well-paced, doesn't mesh his cast's styles when the tone shifts, which creates a disjointed feeling.
Fortunately, Danny Cistone and Davis Campbell's attractive, creative set provides a boost when the play sags. The cubicles, flanked by an elevator that opens and closes, and an expansive file cabinet, which opens into the hidden prison, are impressive. And there are several monitors throughout the stage that are used to broadcast companywide announcements -- some of the funnier moments, thanks to actor Erin Holt.
Chmelko's office escapade suffers from multiple-personality disorder, and none of the personalities -- despite several enjoyable and funny scenes -- is particularly memorable.
Presented by Range View Productions at the Hayworth Studio Theatre,
2511 Wilshire Blvd., L.A.
Fri.-Sat. 8 p.m., Sun. 7 p.m. Apr. 25-May 31.
(323) 960-5770. www.plays411.com/officesonata.