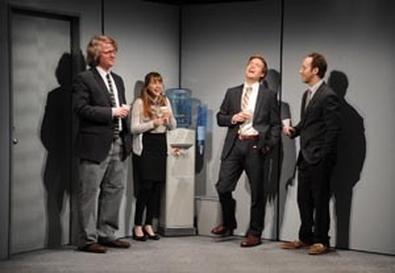 Even though it clocks in at a mere 75 minutes, Ethan Coen's latest collection of one-acts wears out its welcome long before it's over, mistaking as it does banality for hipness. The all-too-predictable use of staccato dialogue, casual profanity, snarky attitudinizing, deadpan acting, and crude sexual humor is as old as the hills and as deep as a child's wading pool.
Offices
is composed of three playlets—
Peer Review, Homeland
Security, and
Struggle Session
—each of which takes place wholly or partially in an office. In the first, a company's resident paranoid rabble-rouser eventually gets himself fired after antagonizing his colleagues once too often. The second observes an inept, macho Department of Homeland Security functionary with a lunch obsession and his emotionally disconnected family. In the third, a bum on a street corner who scorns the establishment affects the lives of two midlevel hacks while continually boasting about his sexual prowess with women.
In all three pieces, Coen exhibits an annoying fondness for calculatedly absurd juxtapositions—perfectly encapsulated by the use of a loopy country-western cover of the title song from
Rose Marie
to introduce the evening—and an unsavory tendency to mine cruelty for cheap laughs. If there is any point to it all, it would seem to be some kind of statement about the anomie of contemporary urban life.
Under the guidance of Neil Pepe, Atlantic Theater Company's artistic director, the wildly overqualified cast does as it's asked with confidence. F. Murray Abraham contrasts the stillness of his contemptuous top boss in the first playlet with the busy physicality of his overbearing bum in the third. John Bedford Lloyd barks appropriately as the Homeland Security guy, then softens things up for his cheerfully empty corporate overseer in the evening's finale. Mary McCann makes little impression as Mrs. Homeland Security, but then that appears to be the point of this anesthetized character. Joey Slotnick is bravely obnoxious as the rabble-rouser, and Daniel London plays a fired worker who suddenly finds the tables turned with a constant underlying deer-in-the-headlights fear.
It should be noted that a fair amount of the audience, though by no means all, laughed a great deal. As Miss Jean Brodie remarks about the Girl Guides in a vastly superior play, "For those who like that sort of thing, that is the sort of thing they like."
Presented by and at Atlantic Theater Company
,
336 W. 20th St
.,
NYC
.
May 7
–
June 7. Tue
.–
Fri
.,
8 p.m
.;
Sat
.,
2 and 8 p.m
.;
Sun
.,
3 and 7 p.m
.
(
212
)
279-4200 or www.ticketcentral.com
.
Casting by Telsey
+
Company
.