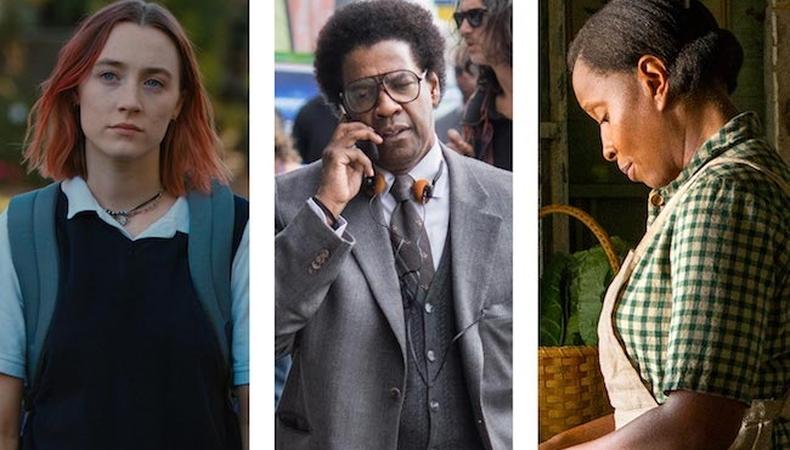 In a Jan. 21 ceremony hosted by Kristen Bell, the winners of one of the acting industry's highest honors will be announced. The nominees for the 24th annual Screen Actors Guild Awards will be decided upon by Guild members across the country, tasked with weighing both collective and individual film and TV performances in the calendar year of 2017. Backstage is once again here to provide a cheat sheet to all the superb acting seen on the big and small screens: who is nominated, why the performance matters, and what makes them worthy of a win.
For your consideration, here are the film nominees for the 2018 SAG Awards.
OUTSTANDING PERFORMANCE BY A CAST IN A MOTION PICTURE
"The Big Sick"
Kumail Nanjiani and Emily V. Gordon set out to do quite a lot in "The Big Sick," the retelling of their relationship's beginning, complicated as it was by Gordon's sudden inducement into a medical coma. It's a romantic comedy furnished with innovations that make the genre feel remarkably relatable; navigating what should be distinct tones that come off as compelling and cohesive are Ray Romano, Holly Hunter, Zoe Kazan, Zenobia Shroff, Anupam Kher, and Nanjiani himself, collectively the most irresistible cast of the year.
"Get Out"
There's no way "Get Out" could have become such a cinematic game-changer without an ensemble cast that capably understood and captured the particular tone of writer-director Jordan Peele's vision. With Daniel Kaluuya as the audience's surrogate slowly discovering the nefariousness afoot, Allison Williams, Bradley Whitford, Catherine Keener, Caleb Landry Jones, Stephen Root, and Lakeith Stanfield proceed to thoroughly unsettle him—and us.
"Lady Bird"
Writer-director Greta Gerwig assembled a roster of top-tier talent (most are regulars in the NYC theater scene) to bring to life her portrait of Sacramento, California, in 2002, and a high school senior (Saoirse Ronan) who believes the only interesting thing about the year is that it's a palindrome. Give Laurie Metcalf, Tracy Letts, Lucas Hedges, Timothée Chalamet, Beanie Feldstein, Stephen McKinley Henderson, and Lois Smith every conceivable award.
"Mudbound"
What Carey Mulligan, Garrett Hedlund, Jason Clarke, Jason Mitchell, Jonathan Banks, and Mary J. Blige do in "Mudbound" is ensemble acting at its finest; each performance can be viewed from an individual or national perspective in this sweeping epic that tackles issues—war and its traumatic effects, race relations in the American South, the indivisible power of family—that resonate as much today as they did after World War II.
"Three Billboards Outside Ebbing, Missouri"
With three individual nominations plus this top honor from SAG, it's clear "Three Billboards" is a hit with actors. Frances McDormand, Woody Harrelson, Sam Rockwell, John Hawkes, Peter Dinklage, and the rest of this remarkable cast share a common comic bleakness, as well as, shall we say, a proclivity for profanity. Yet each star is distinctly aware of their character's conflict with every other member of the titular small town and knows how to bridge the often painful gaps.
OUTSTANDING PERFORMANCE BY A FEMALE ACTOR IN A LEADING ROLE
Judi Dench, "Victoria & Abdul"
The pomp and circumstance of the British crown is well documented, but few have conveyed its weight quite like Dench. She's entertaining, of course, as the lonesome widow monarch who befriends a young Indian man (Ali Fazal). But she proves downright hypnotizing when she invokes her power—as both onscreen queen and offscreen acting royalty.
Sally Hawkins, "The Shape of Water"
Considering the heightened reality of Guillermo del Toro's latest film universe, a lesser actor might have opted for a physical grandiloquence in playing a mute laboratory maintenance woman. But Hawkins crafts the inner complexities of an irrepressibly romantic character with increasingly fine-pointed strokes, making us believe—and root for—Elisa's desperate love for a half-fish, half-man (just one of the many challenges this fearless leading lady faces).
READ: 27 of This Year's Supporting Film Actors For Your Consideration
Frances McDormand, "Three Billboards Outside Ebbing, Missouri"
In Martin McDonagh's portrait of a sleepy Missouri town, McDormand gives the year's most heartbreaking (and foul-mouthed) performance as the grieving mother of a girl whose killer has yet to be found. Disrupting the status quo by calling out the inadequacy of Ebbing's police in those titular billboards, her Mildred is single-minded in her need for justice, a volcano forever on the verge of erupting.
Margot Robbie, "I, Tonya"
Robbie has already proven herself as one of our strongest and most compelling working actors, but her portrayal of Tonya Harding in "I, Tonya" is both physically and emotionally muscular, undoubtedly her most triumphant work yet. It's such a bold performance, we'll never see the notorious Olympic skater in the same way.
Saoirse Ronan, "Lady Bird"
Ronan, as high school senior Lady Bird, solidifies her reputation as one of Hollywood's most versatile and empathetic performers, channeling Greta Gerwig's quasiautobiographical whimsy into a darkly funny rebellion without a cause. (And that pink arm cast and mediocre dye job remain the year's most memorable look.)
OUTSTANDING PERFORMANCE BY A MALE ACTOR IN A LEADING ROLE
Timothée Chalamet, "Call Me by Your Name"
What a breakthrough year it's been for this screen wunderkind. Small roles in "Lady Bird" and "Hostiles" aside, Chalamet's name is on everyone's lips for his stunning turn in Luca Guadagnino's symphony of a gay romance. Carrying the film by channeling all its sophistication, warmth, and slow-burning confusion, Chalamet has given us a coming-of-age story for the ages.
James Franco, "The Disaster Artist"
Taking metafiction to thrilling new places, Franco's "The Disaster Artist" depicts the creation of one of the most notoriously bad films in Hollywood history. Franco excels as both director and star here, portraying the wholly unclassifiable Tommy Wiseau and his singular quest to turn "The Room" into a classic. (Also, as both director and star, Franco apparently stayed in character throughout filming!)
Daniel Kaluuya, "Get Out"
Watching Kaluuya's Chris observe and finally piece together what's going on in this daring horror film remains one of the dramatic highlights of the year. The craftsman executes horror tropes with aplomb, all while tapping into Jordan Peele's shrewd social commentary. Genre filmmakers will study this instant classic for years to come, while horror actors will look to Kaluuya's undeniable skill.
Gary Oldman, "Darkest Hour"
Oldman has always been a transformative actor, but playing Winston Churchill is a next-level master class in how to present real figures of history in new and unexpected ways. Joe Wright's film charts the best speeches that Churchill gave leading to the U.K.'s foray into World War II (some of the best speeches ever given, period), and Oldman bites into them and chews forcibly.
Denzel Washington, "Roman J. Israel, Esq."
An old-school activist attorney, likely with savant syndrome, in the midst of an existential crisis reconciling real-world practicality with far-reaching legal philosophy? Sounds like a character only Washington could capably wrangle. Roman J. Israel, with his goofy suits and headphones and that insisted-upon title of respect, is Washington's least likely leading role. That's exactly why it's one of his best.
OUTSTANDING PERFORMANCE BY A FEMALE ACTOR IN A SUPPORTING ROLE
Mary J. Blige, "Mudbound"
Anyone familiar with her music knows Blige is a discerning artist, but that doesn't necessarily prepare us for her astutely nuanced performance in this World War II epic. As matriarch Florence Jackson, she makes what veteran actors know is often the best choice: quiet stillness. Rather than swinging for the fences, the magnetic Blige draws us modestly yet movingly into her character's inner life.
Hong Chau, "Downsizing"
Not every actor gets to play someone shrunk down to 5 inches tall. Chau, the one relative unknown among a cast full of Hollywood stars, stands out as a woman who never wanted to be. Her Ngoc Lan Tran, a Vietnamese refugee maid, makes no bones about communicating her traumatic past. In one searing monologue, the actor navigates that trauma—and burgeoning hope—with dexterity.
Holly Hunter, "The Big Sick"
It's about time Hunter returned to the big screen with the substantial material she deserves. The Oscar winner turns in an unforgettable performance as Beth, mother to Zoe Kazan's ailing Emily. Delivered in Hunter's inimitable voice, she's a fiery, no-holds-barred character that remains both ultra-specific and universally relatable.
Allison Janney, "I, Tonya"
Portraying the foul-mouthed, abusive mother of the titular Olympian skater, Janney sticks a landing that could see her taking home gold herself. The TV legend has received the best big-screen buzz of her career, and it's a juicy role that's drawn comparisons to past supporting actress winners: Mo'Nique in "Precious" and Melissa Leo in "The Fighter."
Laurie Metcalf, "Lady Bird"
As a "warm but scary" mother struggling to both make ends meet and appreciate—as well as love—her daughter, Metcalf provides this story with both its familiarity and idiosyncrasy. Her comic yet devastating tour de force confirms what stage and TV audiences have known for years: Metcalf is a master. Her final, silent scene is delivered so brilliantly, it feels tailor-made for awards.
OUTSTANDING PERFORMANCE BY A MALE ACTOR IN A SUPPORTING ROLE
Steve Carell, "Battle of the Sexes"
Where Carell excels is in giving buffoonery substance. His take on Bobby Riggs, the notorious and self-proclaimed chauvinist who in 1978 challenged women's tennis champion Billie Jean King (Emma Stone) to an excessively theatrical match on live TV, never lets us pigeonhole him as purely exploitative. Carell's Riggs is a gambling addict in a struggling marriage, who, in lieu of correcting his flaws, is doomed to flaunt them for the world to see.
READ: The Leading Film Actors of 2017 We Can't Stop Thinking About
Willem Dafoe, "The Florida Project"
Best known perhaps for his zany or malevolent characters, Dafoe surprises here by leaning into an everyman sort of naturalness. His exasperated but tenderhearted hotel manager, Bobby, is one of the most memorable performances of the year simply because of its understated, immense humanity.
Woody Harrelson, "Three Billboards Outside Ebbing, Missouri"
Harrelson has a tendency to turn his particular form of charisma into a kind of trap he springs for audiences: he looks and acts like a goofball before revealing hidden layers of tender humanity. Here he comes off at first as a portrait of incompetence as Sheriff Bill Willoughby, accused of doing nothing to investigate his small town's murder, only to back up his tough-guy persona with genuine warmth.
Richard Jenkins, "The Shape of Water"
Jenkins has never been more empathetic than as closeted illustrator Giles, whose warmth and charm provide his neighbor with an oasis of much-needed kindness; he and Sally Hawkins blossom in each other's company. Bumbling, chatty, and emanating heartache, Giles is an all-too-familiar outsider figure in a tale full of them.
Sam Rockwell, "Three Billboards Outside Ebbing, Missouri"
This longtime favorite actor finally gets a part that demonstrates his versatility. Like others in this darkly comic story, Rockwell's aggressive, racist cop seems predictable from the get-go. As Martin McDonagh dares to change our minds about him, Rockwell himself finds layers of surprise and sympathy in a man whose problem may be that he never quite grew up.
Check out Backstage's film audition listings!