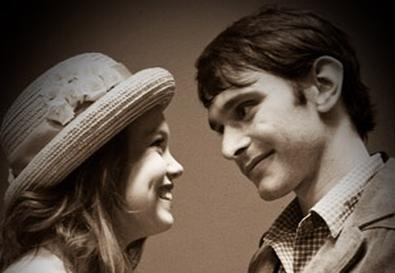 The corn isn't quite as high as an elephant's eye in this modestly staged revisit to Rodgers and Hammerstein's musical classic. There's more restraint in portraying the country-bumpkin nature of the characters than is often evident in this show, which takes place in a rural U.S. territory during its pre-statehood days. The eager cast members are generally at their best in bringing out the boisterous humor of the characters without resorting to overkill. Where the production is less successful is unfortunately in its most crucial area. Under Greg Haake's music direction, the unidentified instrumental sounds emanating from backstage lack the breadth and heft required to properly serve a Rodgers and Hammerstein score, often faltering as suitable accompaniment. The singing voices range from fine to adequate, and Tania Possick's buoyant choreography is a plus. But the glory of that immortal score is nonetheless shortchanged in this endeavor.
Director Robert Marra keeps the narrative moving at an agreeable pace. After a less-than-electrifying delivery of the opening song, "Oh What a Beautiful Morning," Travis Dixon settles into a winning portrayal and better vocal delivery of subsequent songs, in his role of romantic lead cowpoke Curly. Jean Altadel captures the feisty independence of Laurey and boasts a charming voice. As spirited Aunt Eller, Maura Smith gives a funny and energetic performance, though when the dialogue refers to her old age, actor and role aren't in perfect sync. As brooding ranch hand Jud Fry, strapping young Jay Rincon makes a valiant effort but lacks the menace of this troubled character. Among the strongest characterizations, Ryan Oboza slips into the role of rascally Will Parker without a hitch—hayseed all the way but appropriately so in this case. Jillian Gomez finds the goofy fun in the part of amorous Ado Annie, though she sometimes swallowed song lyrics on opening night. Matthew Dorio is suitably smarmy—and amusing—as the wily Persian peddler, Ali Hakim.
One doesn't miss the trappings of a Broadway extravaganza, thanks to scenic designer Craig Pavilionis' handsome and realistic depiction of a farmyard and the surrounding hills, as well as Derrick McDaniel's atmospheric lighting and Ann McMahan's credible costumes.
Presented by Musical Theatre of Los Angeles at the Met Theatre, 1089 N. Oxford Ave., L.A.
June 17-July 18. Thu.-Sat., 8 p.m.; Sun., 3 p.m. (Dark July 4.) (323) 960-7735. www.plays411.com/oklahoma.