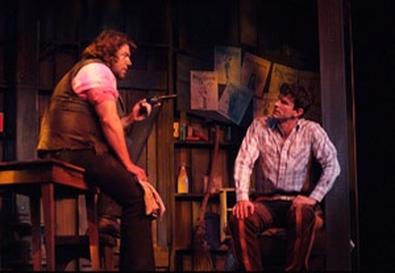 When it premiered in 1943, this Richard Rodgers–Oscar Hammerstein musical, based on Lynn Riggs' play "Green Grow the Lilacs," was considered a breakthrough in the seamless integration of book and score. It still holds up beautifully, thanks to a durable blend of soaring music and sublime lyrics, sprightly romantic comedy, and darker story elements. Director Stephanie A. Coltrin's staging thankfully downplays the exaggerated drawls and cornpone portrayals that often mar revivals of this classic. Choreographer Karen Nowicki's showstopping dance sequences provide the high points in this entertaining production.
Taking the lead roles of genial cowpoke Curly and Laurey, the sassy apple of his eye, Damon Kirsche and Sarah Bermudez are in exquisite voice and offer appealing characterizations. Several first-rate supporting turns perk up the proceedings. Karl Warden's performance as love-struck and justifiably jealous Will Parker is a joy; his high-kicking dance routines are splendid, and his take on the role is buoyant and infectious. As Ado Annie, Will's flirtatious ladylove, who "cain't say no," Annie V. Ramsey is a delight, imparting a squeaky-voiced eccentricity that stops short of excess, grounding this zany character with a dose of genuine charm. Crusty Aunt Eller is humorously and endearingly played by Diane Vincent, who anchors the boisterous shenanigans with a sure sense of elder-generation authority. Nathan Holland elicits laughs as the wily Persian peddler Ali Hakim, though his vague hint of an exotic dialect sometimes slips into a Borscht Belt vernacular. Sam Zeller does creditable work as ominous ranch hand Jud Fry.
Nowicki's re-creation of Agnes DeMille's legendary choreography feels fresh and vibrant, especially in the roof-raisin' "Farmer and the Cowman" number and the lovely "Dream Ballet," gracefully performed by Jo Patrick (as Dream Curly) and Corina Gill (as Dream Laurey). A terrific ensemble cast meets the challenges of the energetic production numbers, staged by Nowicki with panache.
The production design is handsome, highlighted by charmingly old-fashioned sets rented from FCLO Music Theatre. Alby Potts' music direction is superb. One discordant note: It seems almost sacrilegious to perform a Rodgers and Hammerstein musical without the overture. The show is admittedly long, but excising that glorious element is inexplicable.
Presented by Civic Light Opera of South Bay Cities at the Redondo Beach Performing Arts Center, 1935 Manhattan Beach Blvd., Redondo Beach. Sept. 19–Oct. 4. Tue.–Fri., 8 p.m.; Sat., 2 and 8 p.m.; Sun., 2 and 7 p.m. (310) 372-4477. www.civiclightopera.com.