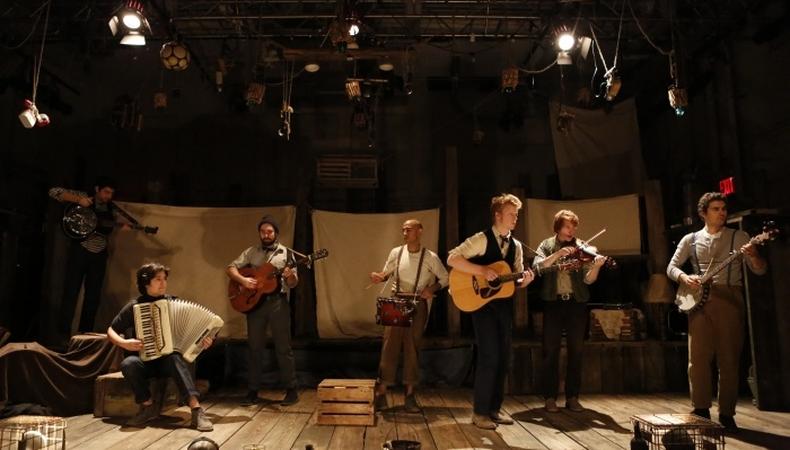 The job of a lighting designer often goes unnoticed. Only when a spotlight fails to follow the belting starlet or the stage isn't illuminated on cue does a typical audience member realize someone was concocting the ambience. But Bart Cortright, a projection designer credited with "scenography" for "The Old Man and the Old Moon," is the unsung hero of this theatrical fable, achieving cinematic shadows with the help of designer Lydia Fine to bring PigPen Theatre Co.'s refreshing telling of the tale to resounding life.
The story centers on an old man whose job it is to "refill" the leaking moon each night. When his wife decides to go on a much-needed adventure without him, he leaves his duty to the moon behind to follow her and journeys to the end of the earth, meeting sailors, ghosts, and many others along the way.
The rest of the production, while entirely endearing, does not achieve the same level of innovation as those lights, whose fixtures emote a cozy glow yet hang from the ceiling like industrial bulbs on a construction site. This duality presents itself throughout the piece, as PigPen fuses a vintage—dare I say hipster—feel, complete with shadow puppets and folk songs, with a new era of theatermaking. This type of stylistic storytelling is not exactly new, though, as shows like "Peter and the Starcatcher" brought a similar aesthetic to the main stem last season, and this production feels similar, down to some comic cross-dressing. The tunes recall popular contemporary bands with retro roots, like Mumford and Sons and The Civil Wars, and while the seven-person ensemble does not mock the twee vibe, they can't take credit for creating it either.
The highlights are the puppetry, designed by PigPen and Fine, and the music; each ensemble member proves their multiple talents playing a different instrument, from fiddle to accordion.
The actors of PigPen met and developed their theatrical style while studying at Carnegie Mellon University. After achieving success at the New York International Fringe Festival in 2010 and 2011, this production marks the company's Off-Broadway debut. The ensemble's enthusiasm is infectious. Ryan Melia plays the old man as a beloved curmudgeon and bestows wonder in a jaded character, while Matt Nuernberger is a natural leader as the narrator. Arya Shahi, Curtis Gillen, Ben Ferguson, Dan Weschler, and Alex Falberg round out the talented group. Though their ideas may not be entirely new, they are certain to bring many more to the table. And I can't wait to see what comes next.
Presented by Britt Lafield/BKL Productions, SoHo Playhouse, Inc., Aaron Glick, Ronnie Planalp/Deborah Taylor, and The PigPen Company at the Gym at Judson, 243 Thompson St. (at Washington Square South), NYC. Oct. 7–Jan. 6. (212) 691-1555 or www.ovationtix.com.
Critic's Score: B+