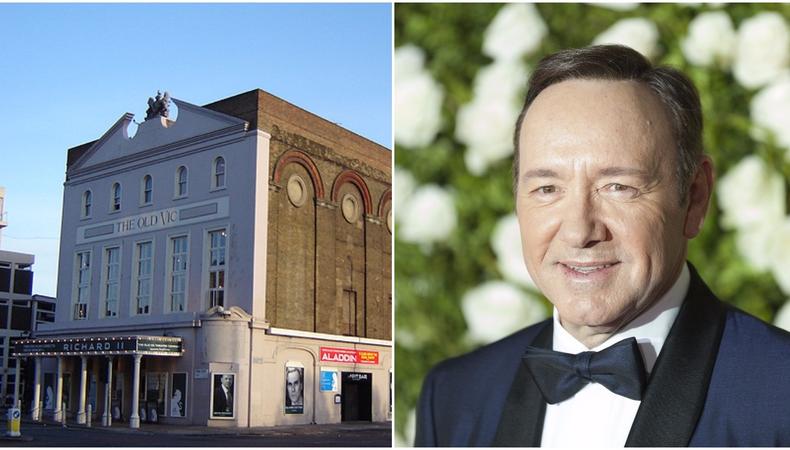 Last month, actor Anthony Rapp accused Kevin Spacey of making sexual advances toward him when Rapp was 14. Since then, numerous men have come forward to allege Spacey had sexually harassed or assaulted them over the last several decades. Of those accusations, 20 have come through a confidential complaints process set up by The Old Vic Theatre, where Spacey served as artistic director from 2004-2015.
Open to anyone who worked at or was connected with the Old Vic, the investigation has received personal testimonies from 20 individuals, 16 of whom were former staff and all of whom were men, regarding inappropriate incidents with Spacey. According to The Guardian, 14 allegations are so serious that the theatre has recommended complainants report them to the police.
Shockingly, the investigation revealed there was a complaint made to management whilst Spacey was working at the theatre, despite the theatre previously claiming otherwise. What won't surprise many within the industry is that the report goes on to suggest those with complaints felt unable to report them at the time because of the "cult of personality" that existed around the Oscar-winning Hollywood star.
The theatre apologised for "not creating an environment or culture where people felt able to speak freely" and recognised that Spacey's "stardom and status at The Old Vic may have prevented people, and in particular junior staff or young actors, from feeling that they could speak up".
Other findings suggest that staff who witnessed inappropriate behaviour were "unclear" how to respond and that "career insecurity" was a major factor for incidents going unreported. Equity's Louise McCullen said actors and other self-employed staff feeling unable to report misconduct "is not shocking to us as a union" and that "a climate of fear" existed across the industry. She added that because actors and workers are "precarious", they fear that "if they put their head above the parapet then they won't get the next job".
READ: Resources for U.K. Actors Who Have Experienced Harassment or Assault
Since the scandal broke, The Old Vic has been criticised for not speaking out against Spacey and for allegedly "turning a blind eye" to Spacey's behaviour. The woman who hired Kevin Spacey as artistic director in 2004 has also said she was unaware of claims of misconduct.
Current artistic director Matthew Warchus has spoken out for the first time, saying the "allegations have been a shock and a disturbing surprise to many of us" and stressing that it is "incorrect, unfair and irresponsible to say that everybody knew". He also said that "these findings will help not only The Old Vic but our industry as a whole, as together we rapidly evolve an intelligent new standard of protection and support in and around the workplace".
The most recent statement from the theatre announces a "new way forward" to ensure that it fulfils its "duty of care" to all staff and actors who work there, including creating a set of "OK - NOT OK" cultural expectations that clearly set out what is and isn't acceptable behaviour. The theatre is also providing victim support counselling to anyone affected around the clock for the next year.
Spacey, who in a matter of weeks has "parted ways" with his talent agency, been erased from a completed film project, dumped from Netflix's hit TV show "House of Cards", and stripped of an Emmy award, is reportedly seeking treatment at the same Arizona clinic as Harvey Weinstein. Spacey has still not commented on allegations, last speaking through his former spokesperson to say that he would take the time to "seek evaluation and treatment".