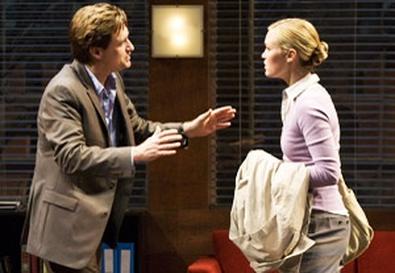 When David Mamet's "Oleanna," in which a female student wrongly accuses a professor of sexual harassment, opened Off-Broadway in 1992, it was shocking and incendiary but pretty much a one-sided battle. Under Mamet's direction, Rebecca Pidgeon (the playwright's wife) played the co-ed as a vacuous fool obviously manipulated by an offstage group of evil feminists into ruining the life of the nice-guy prof played by sweet, teddy-bearish W.H. Macy. Many saw the powerful one-act as a backlash against the excesses of political correctness and the women's movement. In Doug Hughes' reconsidered staging (now on Broadway after a run in Los Angeles), with a pair of powerhouse performances by Julia Stiles and Bill Pullman, the terms of combat are more equal and the outcome more ambiguous.

Stiles gives Carol an obvious intelligence and ferocious aggressiveness. This young woman is no one's puppet. Stiles backs up Carol's outlandish threats with such conviction, you might find yourself actually persuaded to her point of view. She also gives the character a deep backstory. At the end of the first scene, as Carol is about to tell her professor a secret, they are interrupted by his ringing phone. We never find out what she was going to say, but Stiles makes it clear it's something in her past that informs her future actions.

Just as Stiles has found more dimensions in Carol, Pullman paints multiple shadings in John. His academic is more than just a nice guy victimized by a vengeful bitch. He's pompous and self-important yet self-doubting and insecure. Though he has no overt sexual interest in Carol, he is guilty of patronizing her. Pullman holds all of John's tension in his shoulders and only lets it burst out in Mamet's staccato dialogue. The phone, which regularly cuts into their confrontations, becomes another character as Pullman creates an entire life—nagging but beloved wife, helpless lawyer, disintegrating home—at the other end of the line.

Hughes wisely paces the play slowly at first, and those unfamiliar with it may be bored. But they should stick with it, because Hughes and his actors incrementally increase the tension till it explodes. It's hard to believe the same director staged the rollicking comedy "The Royal Family," which opened just a few days earlier.

Neil Patel designed the tasteful college set, featuring menacing metal window shades that ominously open and close between scenes. At 75 minutes, "Oleanna"—the ironic title is derived from a folk song about a utopian community—is the most intense show on Broadway.


Presented by Jeffrey Finn, Arlene Scanlan, Jed Bernstein, Ken Davenport, Carla Emil, Ergo Entertainment, Harbor Entertainment, Elie Hirschfeld, Rachel Hirschfeld, Hop Theatricals, Brian Fenty/Martha H. Jones, and Center Theatre Group at the Golden Theatre, 252 W. 45th St., NYC. Oct. 11–Dec. 6. Tue., 7 p.m.; Wed.–Sat., 8 p.m.; Wed. and Sat., 2 p.m.; Sun., 3 p.m. (212) 239-6200 or www.telecharge.com.