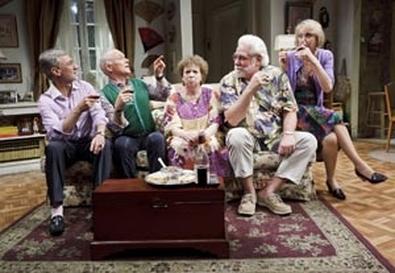 Lovable eccentricity is a dangerous temptation for playwrights, and it has lured Charles Busch right down the rabbit hole in the hopelessly jerry-built "Olive and the Bitter Herbs." A commission from Primary Stages, this commercially minded comedy is an obvious attempt to duplicate the box office success of his earlier play without a drag role for himself, "The Tale of the Allergist's Wife." In this case, however, lightning is unlikely to strike twice.

At the center of all the forced shenanigans is Olive, an epically sour actor in her 70s whose biggest claim to fame is being the "Gimme the sausage" lady in a TV commercial 30 years ago. The most disliked tenant in her East 30s Manhattan co-op apartment building (Olive is rent-stabilized, of course), she is looked after by the 50ish busybody Wendy, a steadfastly single theatrical company manager who has a hobby of adopting her older leading ladies as improvement projects. Wendy decides to broker a truce between Olive and the gay couple next door, whose fondness for cheese Olive insists stinks up her living room. Sixtyish and courtly, Robert is a retired editor of children's books; the somewhat younger and decidedly waspish Trey used to be his illustrator but is now having a hard time getting work on his own. Then there's Sylvan, also in his 70s, a gentle Jewish bear of a man who shows up at Olive's door to apologize for the behavior of his daughter, the co-op board president, in an altercation with Olive.

Olive is so unpleasant that it's hard to understand why anybody puts up with her for long, so Busch throws into the mix a magic mirror in her apartment in which she sees a man named Howard, with whom Olive says she's in love. The others are fascinated with the mirror (and Howard) and keep trying to gaze into it, much to Olive's cantankerous dismay. It's an awfully artificial way to keep everybody coming around, and Busch never makes the device pay off, either thematically or structurally. Indeed, when he uses it late in Act 2 to set off a string of what are supposed to be hilarious coincidences linking Olive to everyone else at important moments in their lives, the result is predictable and tedious. His anything-for-a-laugh jokes have a desperate quality. ("What are you doing to that mirror?" Olive angrily demands as Wendy sprays it with Windex. "Giving it a breast reduction" is the head-scratching retort.) And yes, "Gimme the sausage" eventually is used for a gag line exactly as you would expect.

Director Mark Brokaw has assembled a cast of gifted comic actors who are largely stymied by characters that are mostly an amalgamation of attitudes. Marcia Jean Kurtz commendably doesn't sugarcoat the nasty Olive but has a hard time locating an emotional center for her. Julie Halston is, well, Julie Halston as Wendy, wry and harried, but the actor can't make Busch's Halston-tailored final set piece, when Wendy finally explodes in anger at Olive and storms out for good, either funny or organic. David Garrison and Dan Butler's Robert and Trey are at least convincing in their coupledom, though Butler skates awfully close to the kind of pissy and prissy gay caricature for which a straight writer and actor would undoubtedly be criticized. Perhaps Busch's least persuasive character is Sylvan (something that dooms the wish-fulfillment ending), and Richard Masur can do little with him but play a stylized sweetness.

Olive's homey apartment is properly realized by set designer Anna Louizos, and Suzy Benzinger's costumes are appropriate to type. Lighting designer Mary Louise Geiger's "Romper Room" magic-mirror lighting effect and John Gromada's aggressively cute between-scenes music, however, are more cloyingly representative of this too-eager-to-please confection.

Presented by Primary Stages, in association with Daryl Roth and Bob Boyett, at 59E59 Theaters, 59 E. 59th St., NYC. Aug. 16–Sept. 3. Tue.–Thu., 7 p.m.; Fri. and Sat., 8 p.m.; Wed. and Sat., 2 p.m. (No performance Wed., Aug. 17, 2 p.m.; additional performance Sun., Aug. 21, 3 p.m.) (212) 279-4200 or www.ticketcentral.com. Casting by Stephanie Klapper Casting.